Every year before my sister goes back to school, she and I do a craft together. It has become a tradition of ours. This year we decided to do glitter sneakers. You can never have enough pairs of shoes and let's face it, who doesn't love a little sparkle?!
We had so much fun we wanted to make them in every color! Unfortunately, we didn't have the time or glitter so we had to settle for one pair… ombre of course! It was super easy and they came out looking FAB! If you want to put a little sparkle in your step, follow these easy instructions and you will be rocking your new kicks in no time!
First things first, buy a cheap pair of white sneakers or simply use an old plain pair that needs a makeover. All you need now is some glitter, glue and glaze and you're on your way to having an adorable "new" pair of shoes for little to no money at all. This definitely beats spending mega bucks on a new pair!
Next, recruit a friend or relative, put on your favorite playlist, choose your favorite color (or colors) of glitter, grab some glue and get started. Don't be afraid to get creative – add some jewels or rhinestones for some extra sparkle! It's like they always say "Glitter makes the world go round!" Okay, so maybe it's really love, but glitter is sort of the same thing, right?
White sneakers
Glitter
Glue (we recommend Mod Podge)
Masking tape
Finishing glaze (available at any craft store)
Step 1: Mix your glue and glitter.
Step 2: Line the edge of your sneakers with tape so that you don't get glitter on them.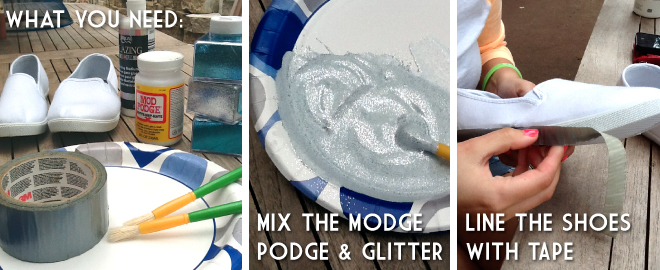 Step 3: Start applying the glitter. If you are doing ombre like us, start with the lightest and end with the darkest.
Step 4: Once dry, apply the finishing glaze to seal all of that sparkle.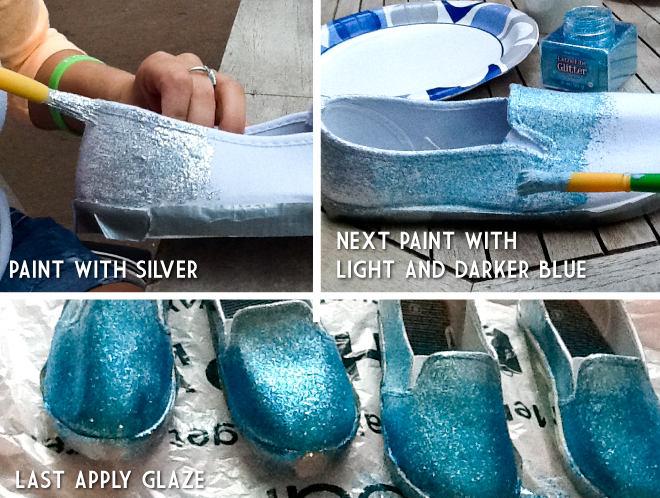 Step 5: Make sure to take lots of pictures so you can show all your friends how you made your super cute new glitter sneakers!