My little Valentine has her heart set on wearing hearts to school this V-Day (naturally). After some internal deliberation, I decided that this would be the perfect time to show off some of my DIY skills. I am proud to say that I am starting a little early this year and leaving myself more than enough time to make a Gap run if it doesn't go as planned.
In my DIY research of the past, I came across a creative dynamo's painting technique using a pencil eraser head. I immediately pinned it onto my "I Can Do That" board. With high hopes, I referred back and decided that this was the perfect way to paint the perfect heart onto my sweetheart's Valentine's Day t-shirt!
What you need:
Plain cotton t-shirt
Acrylic paints (red, light pink & dark pink)
A pencil with an unused eraser head
Heart template/stencil
Scissors (to cut out the heart template)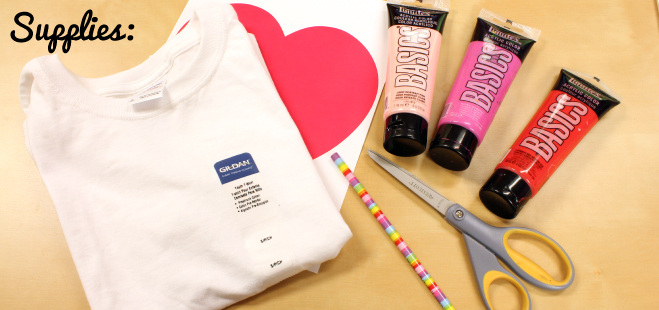 What to do:
Cut out a heart template
Center the template on the t-shirt
Trace around the heart lightly with a pencil
Dip the eraser into the paint color of choice
Fill in a 1/3 of the heart with dots in each color
Let dry and dress up your little heart breaker!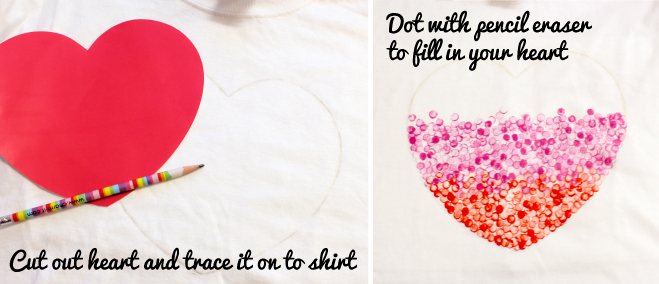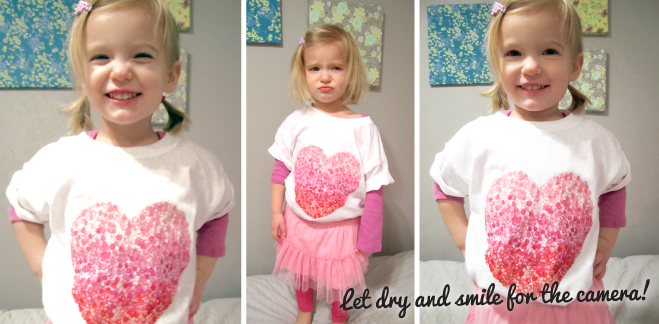 Want some more V-Day t-shirt inspiration that will melt hearts? Check out these awesome ideas from Polka Dot Chair!