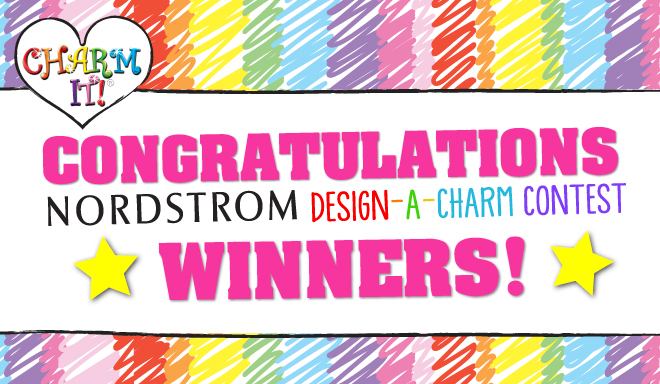 In November 2013, Nordstrom stores nationwide held an exclusive CHARM IT! Design-A-Charm Contest. Aspiring artists ages 5-14 submitted a drawing for the chance to have their design produced and sold at Nordstrom stores nationwide this summer 2014 as a CHARM IT! charm. Tons and tons of entries were received, and we're thrilled to present the three winning designs and the remarkable designers behind the creations. Drum roll please. In no particular order, here they are.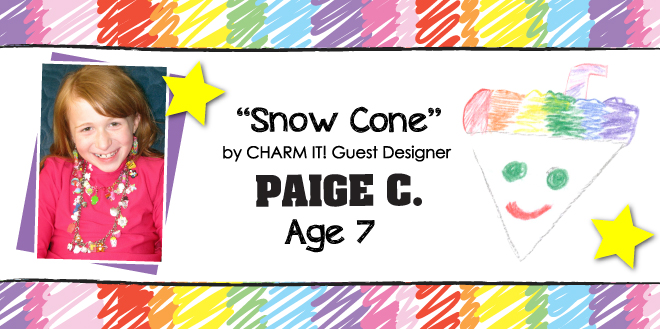 Paige has been collecting CHARM IT! since she was three years old when her mom would lift Paige up to the counter to see all the charms. To date, she has 82 charms in her collection, and if she had to pick a favorite, it would be the cereal bowl. When Paige grows up she dreams of becoming a fashion designer. Her favorite subject is art, and when she's not in school, she loves to dance, draw and play school. When we asked Paige, what inspired her to draw a rainbow snow cone, she said "I love snow cones, and always ask for rainbow colored snow cones. I love them so much that we have a snow cone maker so that we can have them in the winter, too."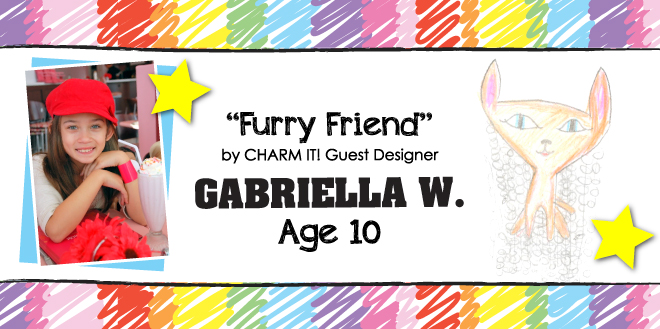 Gabriella received her first CHARM IT! Charm five years ago, it was Hello Kitty. She's lost track, but says she has about 20 charms in her collection, and her favorite – it's a tie, Pup In Cup and Cinderella, which evokes show business memories for her. Gabriella loves to do theater, dance, sing… and did we mention dance? Her hero is Miss Samm, her dance teacher, because she's a triple threat: singer, dancer and owner of a dance studio. When Gabriella grows up, she hopes to be a baker, artist, professional dancer or the President. The inspiration behind her Chihuahua design was her younger sister, Thea, who loves dogs and jewelry as much Gabriella does.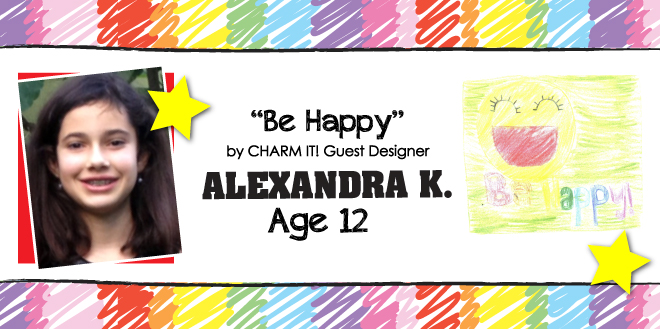 When Alexandra found out that she was a Design-A-Charm winner, she just arrived home after having a bad day at school. When her mom shared the news of her achievement, she started to jump up and down! Alexandra's winning charm design is called "Be Happy." Self-described as hardworking, creative, and fun, her inspiration for the design was the desire to share the feeling of happiness with everyone. One day, Alexandra hopes to be an architect as it combines her passion of art with her favorite subject math. When she's not in school, you can find Alexandra dancing, skiing, ice skating or swimming.
Interested in becoming the next CHARM IT! Guest Designer? Stay tuned! Our 2014 nationwide CHARM IT! Design-A-Charm contest will be announced soon. Make sure to follow us on the IT Spot and all our social media pages for the latest details.