St. Patrick's Day is quickly approaching…the one day a year whether you are Irish or not, you wear green, eat green foods, and patiently wait for that little leprechaun to arrive at your door step so you can finally catch him!
Here at CHARM IT! headquarters, we kind of have a thing for rainbows…come to think of it, we kind of have a thing for holidays as well, which is why St. Patrick's Day is so much fun! Lucky for you, we love it so much that we decided to create the perfect little treat for your kids, neighbors, or friends. It's simple, cute, and best of all; it's done in no time at all! We have even provided you with this free printable tag to add some extra cuteness! Just follow these simple steps and there you have it, you will have your loved ones feeling luckier than ever! But be careful…this treat has been known to disappear this time of year. Word on the street is that our little green friends just can't resist a good rainbow snack!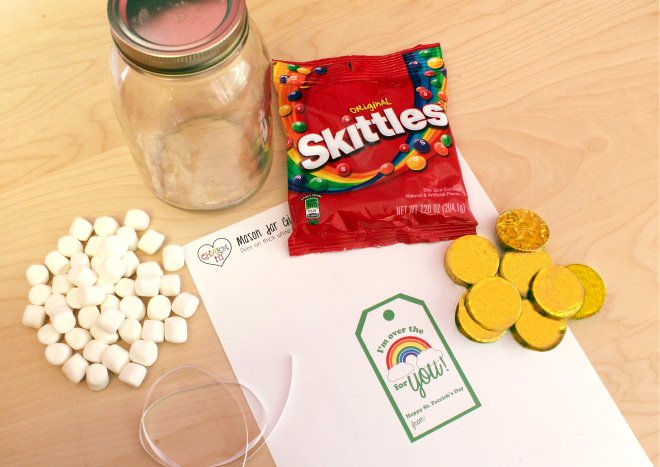 How to make:
1. Place 'gold coins" in the bottom of the jar.
2. Sort the Skittles in to separate piles by color.
3. Starting with purple, layer the Skittles to represent your rainbow.
4. Top the Skittles with a layer of marshmallow "clouds".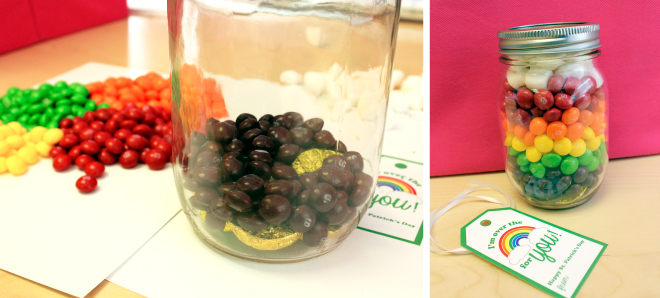 5. Cut out your downloaded tag and cut a small piece of ribbon or string.
6. Punch a hole in the tag and tie it around the lid of the jar.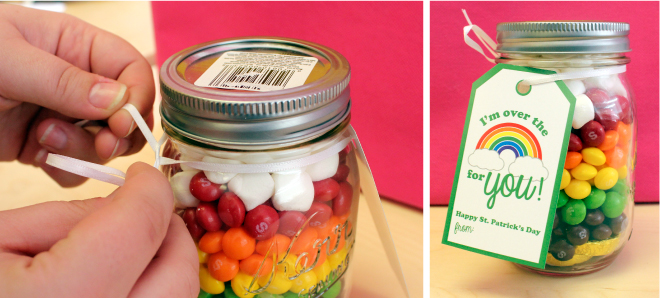 Too late to give this as a St. Patrick's Day gift? No need to worry! You can be "Over the Rainbow" for your loved ones any time of year! Just print out the alternate everyday tag and wait for the smiles!