As a proud American, I look forward to celebrating the Fourth of July every year. BBQs, picnics and pool parties filled with guests and decorations make it a magical day. Typically, I'll show up to a July 4th bash with something festive in hand, like a patriotic dessert trifle or a cake decorated with stripes of strawberries and blueberries to mimic the flag. This year, I decided to get a little crafty.
Since my favorite part of the holiday is the fireworks, I thought, how about I supply something that is equally as exciting, but a little more practical? DIY confetti popper rockets are the answer. Not only can these be enjoyed outdoors and indoors, but they are fun for kids of all ages, totally inexpensive and 100% safe. They serve as an attractive decoration when the party begins, and leave evidence of a celebration that was a BLAST by the end of the night!
What you need:
Toilet paper tubes cut to rocket-like lengths
Colored paper
Tissue paper
Cardstock paper
Confetti (homemade or store-bought)
String
Tape
Glue
Beads
Ribbons for streamers
Tools you will need:
Stapler
Scissors
Hole puncher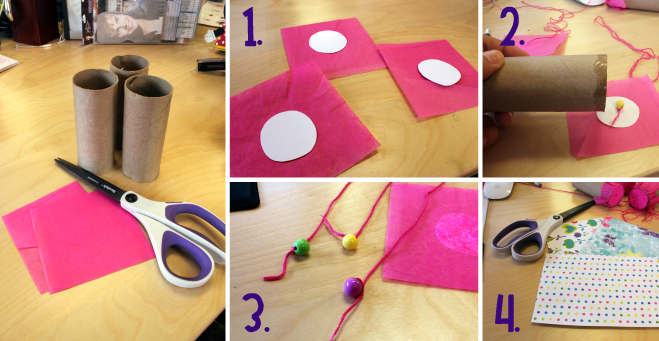 1. Cut a small square of tissue paper that will be big enough to cover the bottom of your cardboard tube and also cut a small circle out of card stock that will just fit inside the cardboard tube. Attach the circle to the center of your tissue paper with glue.
2. Pop a hole through the circle and run your string through the hole with a bead tied to the end of it.
3. Glue your tissue paper "trap door" to the cardboard tube with the bead facing inside the tube and your string facing out.
4. Next cut your decorative paper to fit around the cardboard tube.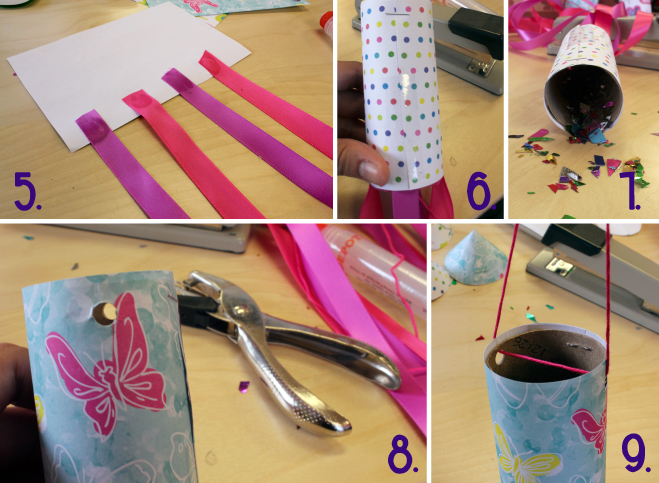 5. Glue Ribbons to the back of the paper before you wrap your cardboard tube to make your streamers.
6. Wrap the cardboard tube with your decorative paper and staple at the top. I secured the bottom with some extra tape.
7. Fill with confetti!
8. Create 2 holes with your hole puncher.
9. Thread the string through the 2 holes and thread both ends through a bead to secure.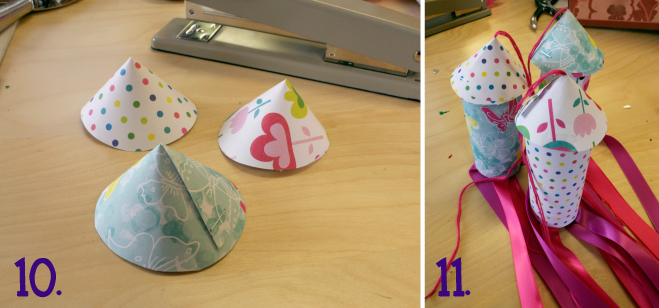 10. Create your cone shaped topper by cutting a large circle out and cutting from one end to the center. Staple to secure.
11. Thread the string through the top of the cone, hang and let the fun begin!