Summer is in full swing. It's time for BBQs, family vacations, sleepovers, catching fireflies, and yes… even summer reading! As a kid, I would get so excited to go to the book store and choose books off of the suggested reading list every year. Apparently, not everyone felt the same. That is why I have come up with a fool proof summer reading list. It is sure to make every little girl feel just as giddy as my 9 year old self did. Not only will they love these books, but they will be even more excited once they finish and you surprise them with a little extra fun to celebrate their reading accomplishment!
Listed below is our "Not So Stinky Summer Reading List" that includes activities, recipes and more to pair with each book after your little ones have finished and are itching for more!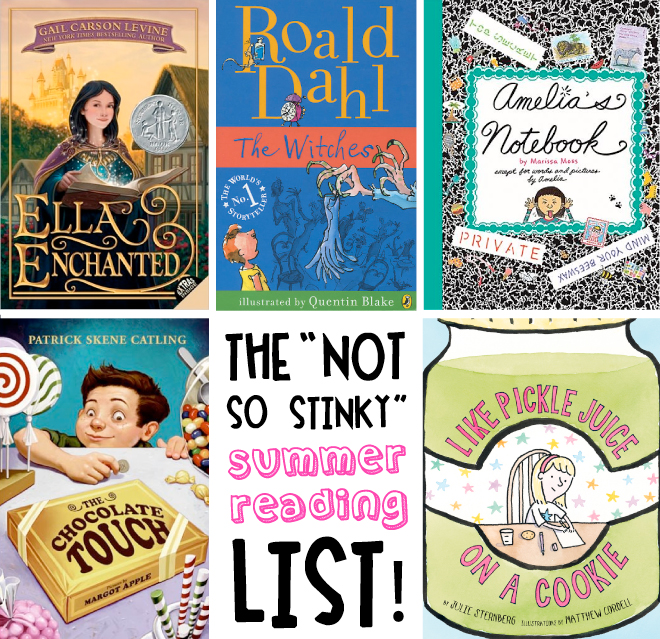 Ella Enchanted by Gail Carsen Levine (Ages 8-12)
At birth, Ella is inadvertently cursed by an imprudent young fairy named Lucinda, who bestows on her the "gift" of obedience. Anything anyone tells her to do, Ella must obey. But strong-willed Ella does not tamely accept her fate. She goes on a quest, encountering ogres, giants, wicked stepsisters, fairy godmothers, and handsome princes, determined to break the curse—and live happily ever after. – Amazon
Extra Fun: Lucky for you the fun doesn't have to end when the book is finished! Ella Enchanted was made into a movie, so you know what that means – time to bust out some popcorn and have a MOVIE NIGHT!
The Witches by Roald Dahl (Ages 7 and up)
This is not a fairy tale. This is about real witches. Grandmamma loves to tell about witches. Real witches are the most dangerous of all living creatures on earth. There's nothing they hate so much as children, and they work all kinds of terrifying spells to get rid of them. Her grandson listens closely to Grandmamma's stories—but nothing can prepare him for the day he comes face-to-face with The Grand High Witch herself! – Amazon
Extra Fun: It's time to break out those oven mitts because it's time to bake some cookies! Let's face it, who doesn't love cookies?! Especially ones that are shaped like mice! You might not understand why they are shaped like mice now, but once your little one is finished reading this book, you will totally get it! Follow this easy recipe and there you have it, one fun-filled night of baking and being silly!
Amelia's Notebook by Marissa Moss (Ages 7-10)
When Amelia's mom gives her a journal for her ninth birthday, Amelia has a place to share her truest feelings at last! The hand-lettered contents of a nine-year-old girl's notebook, in which she records her thoughts and feelings about moving, starting school, and dealing with her older sister, as well as keeping her old best friend and making a new one. – Barnes & Noble
Extra Fun: This one is easy! Start a journal! Here is the fun part… get stickers and markers and decorate the cover just like Amelia did. Don't forget to encourage doodles, stories and anything that pops into your little one's head!
The Chocolate Touch by Patrick Skene (Ages 8-12)
John Midas loves chocolate. He loves it so much that he'll eat it any hour of any day. He doesn't care if he ruins his appetite. He thinks chocolate is better than any other food! But one day, after wandering into a candy store and buying a piece of their best chocolate, John finds out that there might just be such a thing as too much chocolate. . . . – Barnes & Noble
Extra Fun: Ice cream sundae time! Only one rule… nothing but chocolate is allowed! Set up a bunch of different chocolate candies and toppings and have the whole family join in after dinner! Nothing is better than a chocolate sundae bar shared with the whole fam!
Like Pickle Juice on a Cookie by Julie Sternberg (Ages 7-10)
Eleanor is NOT happy. Her beloved babysitter, Bibi, is moving away. Suddenly, the things that she used to enjoy, like eating pizza and riding her bike, aren't fun anymore. Everything reminds her of Bibi. To make matters worse, Eleanor has a new babysitter, Natalie, who just isn't up to snuff. But as summer ends and a new school year approaches, so do new beginnings. Natalie isn't Bibi, but maybe she isn't SO bad. Can Eleanor stay in touch with Bibi despite the miles between them? Eleanor learns some special things about herself, the true nature of friendship, and the bittersweet process of growing up in this charming and poignant first novel by author Julie Sternberg. – Amazon
Extra Fun: Pickle Juice Punch! Make your own pickle juice (don't worry…it tastes much better than normal pickle juice) with this lime-flavored green drink recipe! All you need is lemonade mix, ginger ale and lime flavored Jell-o! Mix the lemonade according to the instructions, and combine equal parts lemonade and ginger ale in a large pitcher. Pour in the Jell-o mix and stir until completely dissolved. Add ice and enjoy! Pickle juice has never been so tasty!
And there you have it, five "not so stinky" summer reading books that your kids will be sure to fall in love with! Not only will they love the activities that go along with these books, but they will always remember the memories created the summer that mom made reading fun!