Who doesn't love reading a fortune cookie? I for one, do. Next question, does anyone else enjoy receiving a little note here and there? Me, me, me! Combine the best of both worlds and surprise the sweethearts in your life with Fortune Cookie Notes – so much more fun than your average post it!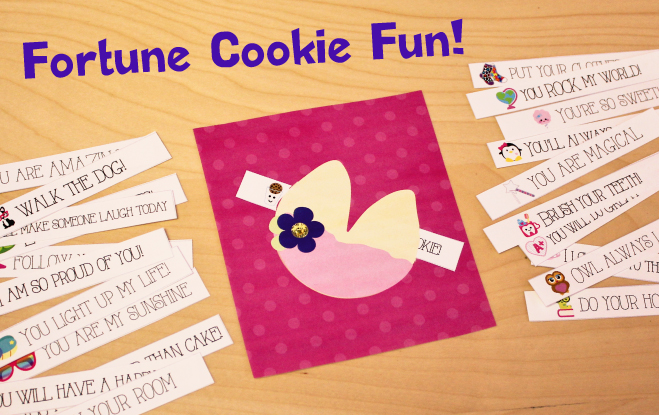 Use our Fortune Cookie Printable Fortunes and Cards to share friendly reminders like "Clean Your Room" or to simply spread the love "You Light Up My Life!" There are tons more fortunes where that came from!
The recipient will be: A. so impressed by your creativity and B. so excited to read the fortune and C. inspired by the message!
To create:
1. Cut out the individual cards and fortunes
2. Make two cuts on either side of the fortune cookie as wide as the fortunes
3. Insert the fortune
Here's one more fortune for good measure… You will print out the most adorable Fortune Cookie Notes today!
How will your kids react to receiving a Fortune Cookie Note? Have some more fun and surprise them with Lunch Box Love Notes!