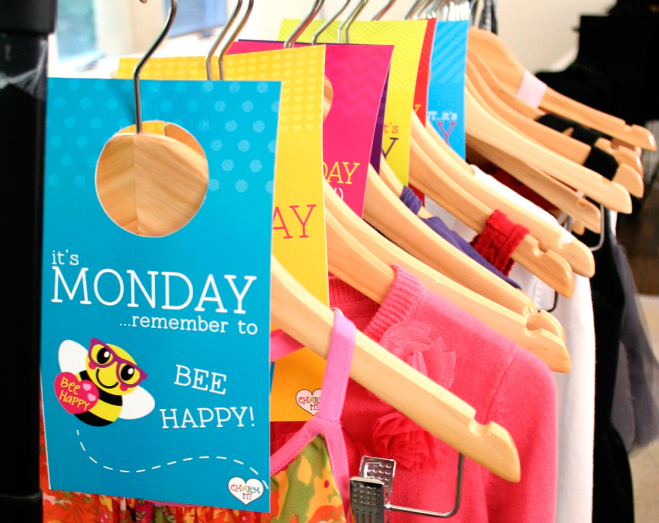 It's back-to-school and back to getting into a routine. Moms: we've already armed you with some Out of the Lunch Box Recipes and Lunch Box Love Notes, so now we're taking on a more challenging task… what to wear! I can only imagine that wardrobe-related tantrums are far too common. I wouldn't doubt that closets and drawers get ransacked by your little ones every day with the complaint that there's nothing to wear! I have to admit that even I, myself, am very indecisive and my room ends up looking like a tornado hit every time I need to go somewhere.
Wouldn't it be so much smarter to plan ahead and avoid this altogether? YES! Morning meltdowns will be few and far between with these handy CHARM IT! Days of the Week Closet Tag printables. On Sunday evenings, make it a point to pick out clothes for the upcoming week with your little fashionista and the next five days will be a breeze.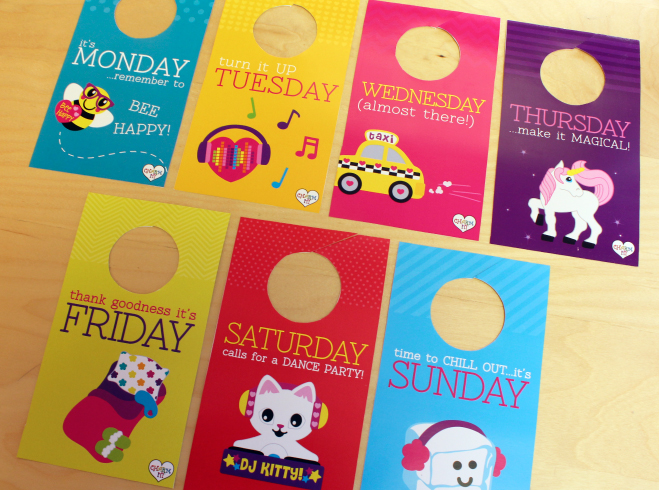 They're best when printed on cardstock paper, or you can even Mod Podge them onto foam/wood door hangers from your local craft store or Dollar Store. A little organization goes a long way! You'll thank yourself for doing this, especially on Monday mornings!
Any tips to share for making school mornings more manageable? We're all ears!