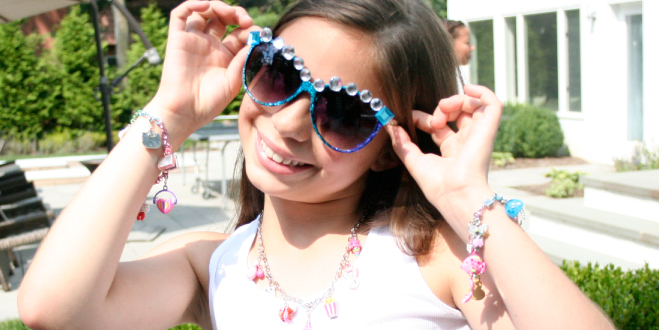 As much as I would love a pair of fancy, brand-name designer sunglasses, it would only be a matter of time before I somehow end up breaking them. Nowadays, I like the less 'traditional' looking pairs out there, from heart-shaped sunnies to completely bedazzled shades. Times like these call for a little DIY! I decided to take my $10 pair and give them an upgrade. I love an opportunity to get crafty, especially when it involves keeping up with the trends and not having to break the bank!
This DIY is as simple as sticking some rhinestones, beads, sequins, or any other embellishment on a plain pair of glasses with a hot glue gun or some super glue. Another way to add some sparkle is to apply dry glitter over an even coat of Mod Podge. Tip: Tape off the lenses with painter's tape to keep them free from any mess and you'll be made in the shade!
I took my new sunglasses to our last CHARM IT! photo shoot and they were a big hit! Who else loves the idea of upcycling their sunnies?