If anything can be decorated, it should be… right? Well, that's my motto! As the new school year has officially begun, it is likely that the excitement of fresh new school supplies has already come and gone. Back-to-School shopping was my favorite thing about the new school year, so why not get crafty to somehow make that feeling last all year long? It's so simple (and fun!) to transform plain or even existing supplies into fabulous looking new tools. Together, you and your CHARM IT! girl can create beautiful Glitter Notebooks and Feather Pencils that will have her on her A-game September through Summer.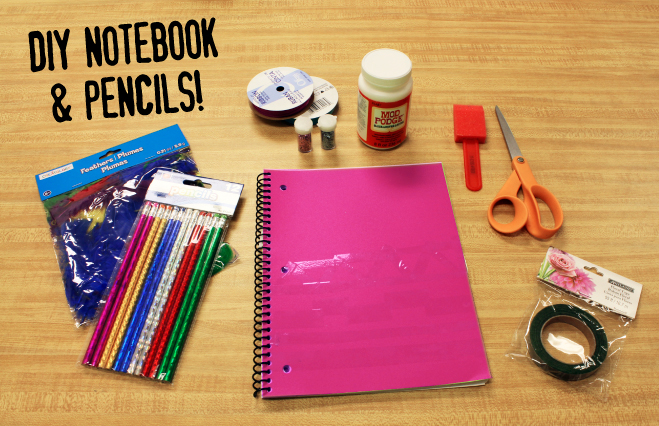 Glitter Notebook: You may use either Skotch/painter's tape or stencils to create a pattern on the front of a solid colored notebook. After you have created your design, dab on Mod Podge with a sponge brush to fill-in the empty spaces, then cover in dry glitter and shake off excess. Ta Da!
Feather-Topped Pencils: Pick an assortment of colored feathers and attach to the top of your pencil by wrapping floral tape around a couple of times. You may want to add a few extra feathers as you go (and I bet you'll want to!). Finish by wrapping ribbon around to cover the tape, and make a bow. You may secure your bow with a drop of hot glue, just to be sure it stays in place.