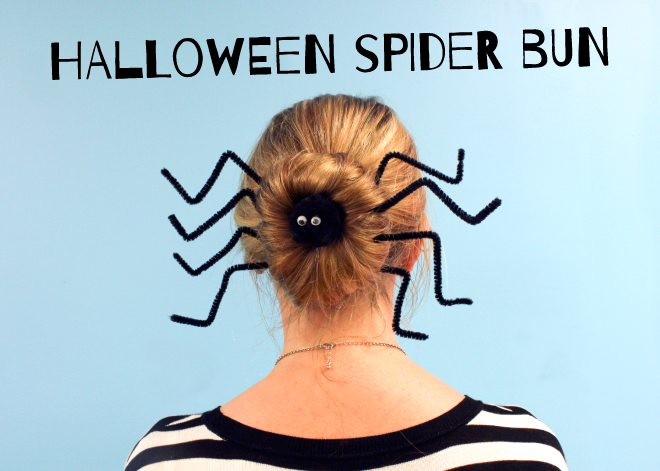 Ponytails, pigtails, fishtails… has anyone else caught on to the fact that all of our favorite hairstyles are named after animals?! Here's a new one to add to that list: the Spider Bun! It's the perfect hairdo to rock for the month of October. Your girls (and you!) will have so much fun with this festive update to the classic sock bun that we have all come to know and love. It screams Halloween, but is way too cute to scare.
Here's what you'll need:
Bobby pin
Hot glue gun/adhesive
Scissors
Black pipe cleaners
Large black pom pom
Small piece of black felt
Googly eyes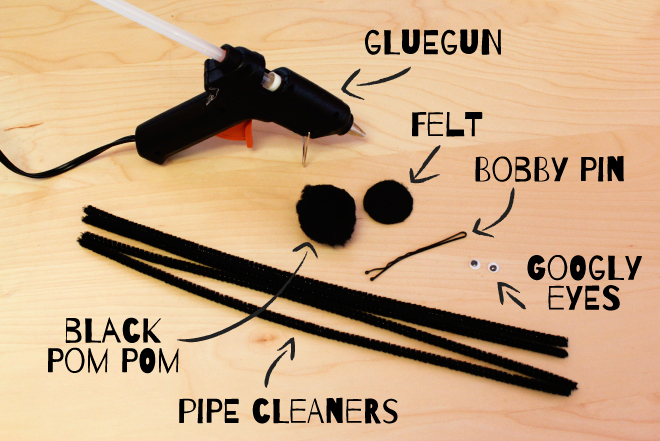 How to make:
1.Begin by styling hair into a sock bun centered in the back of your head.
2.To create the spider, cut a small circle out of black felt and slide it all the way inside the bobby pin. Using your choice of adhesive, glue the pom pom onto the felt (over the bobby pin), and add two googly eyes for the spider's face.
3.Cut four black pipe cleaners in half to make eight legs. Bend each one on the end to create the spider's 'feet'. Stick four of the legs into either side of the bun.
4.Finish by securing the spider pom pom in the center of the bun, and you're done!
Feeling hair-venturous? Try this Hair Bow next!