The holiday season is fast approaching and that means lots of shopping in so little time! Don't fret, we have a pretty good idea of what girls want and have got you covered in the gift department. Consider this a one stop holiday gift guide for all of the girls in your life. Super sweet bonus, all of our choices are under $25. Kiss, kiss and happy holidays!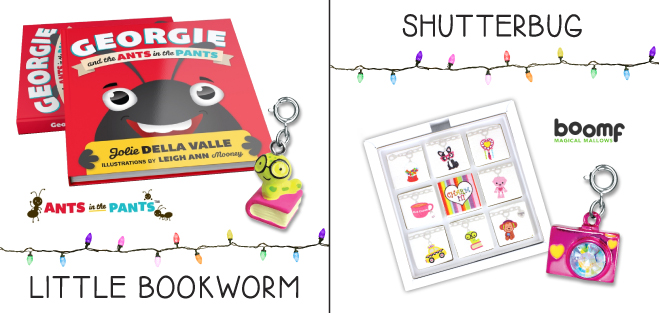 Little Bookworm
This fun-filled children's book, Georgie and the Ants in the Pants, for ages 1-6 is a CHARM IT! favorite! Georgie, the cheerful bow-tied ant, will take your tot on a wonderful adventure with all of his friends. By the end of this story, your bookworm will be wiggling, wobbling, and most importantly, smiling! Pick up an Ants in the Pants outfit while you're at it and give story time a mega dose of adorable!
Shutterbug
Have a little shutterbug with a phone full of pics? Impress your photo buff with a personalized present that is sure to impress even the toughest of critics. How you ask? Enter boomf, the wonderfully wacky, Britain based, custom marshmallow company! Just select photographs and create an adorably delicious marshmallow present. She might just Instagram this one!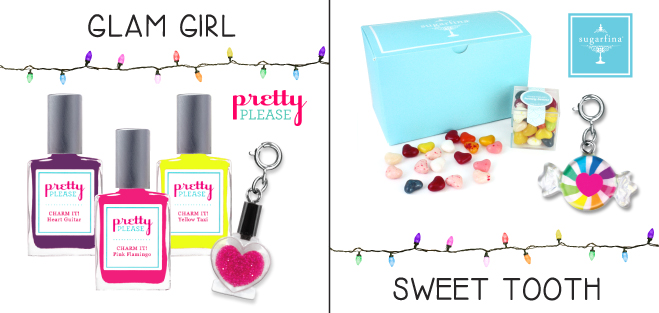 Glam Girl
Ever wonder who comes up with those nail polish names? If you have a glam girl on your hands, she has probably pondered this very question. Make her holiday amazing by personalizing a nail polish by Pretty Please with her name (or anything else fitting) on it. Pick from a ton of amazing nail polish shades and customize as you please. You've got 28 characters, so get creative!
Sweet Tooth
Sugarfina's high-quality, gourmet candies from around the world make the perfect gift to satisfy any girl's sweet tooth. Choose from their amazing selection and you'll be sure to put the happy in her holidays. The Sweetheart Honey Beans had us at hello. One for her, one for you!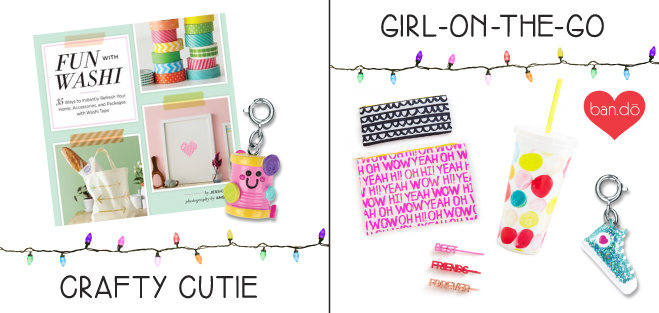 Crafty Cutie
Fun with Washi is DIY at its fun and creative best! Written by Jessica Okui, this instructional handbook will walk you through 35 excellent DIY ideas with Washi Tape for everything from home décor to gold leaf headbands. Start small or go big, either way your crafty cutie will think this is the gift that keeps on giving.
Girl-on-the-go
Shop Ban.Do's super fun accessories really hit the spot. With everything from bobbi pins to bags, ban.do has something for the girl-on-the-go who is in the know. She'll love all of the chic and cheeky little gems this shop has to offer, and rest assured, both your band.do recipient and your wallet will thank you!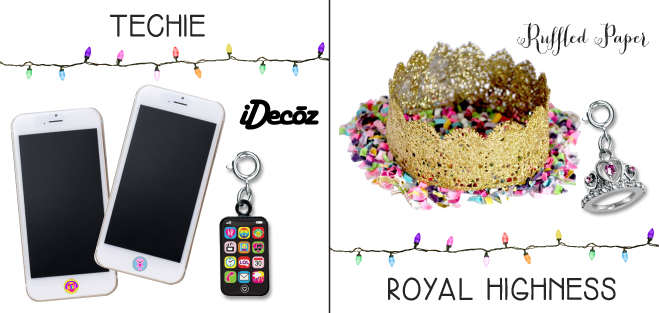 Techie
Your little techie knows it's important to stay connected, but shouldn't you be able accessorize while doing it?!? Consider the home button stickers from idecoz the answer you've been waiting for! Options include emojis, candy inspired designs, and sports themes. Oh, and did we mention you can even create custom buttons with images of your choice?
Royal Highness
No princess is complete without a crown and have we found the perfect one for the royal highness in your house! Ruffled Paper has created a beautiful and ornate crown that might just have your little one claiming the couch as her throne!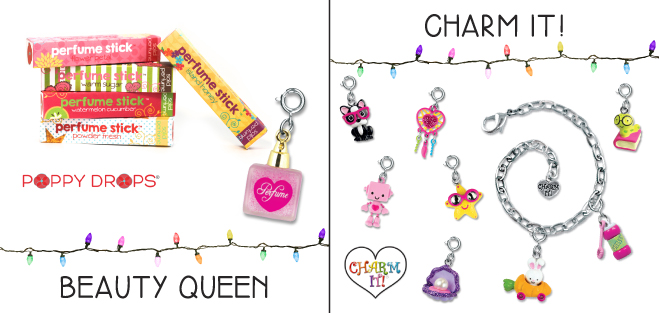 Beauty Queen
We absolutely adore Poppy Drops! They've got a wonderful assortment, with offerings from pierce-free earrings to tattoo nail art. We're partial to the lip balms and perfume sticks ourselves. They're perfect for any little beauty queen and can have her looking and smelling amazing, just like mom!
CHARM IT!
Talk about decisions! With over 200 charms in the collection, the only question will be which ones to gift! Girls love showing off their personality and these fun and fashionable charms are definitely the way to do it. Categories ranging from princess to peace and friends to fashion mean there's a charm (or ten!) for every girl out there!