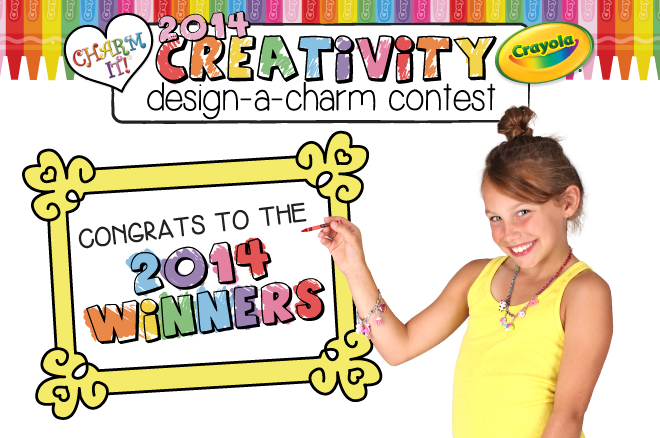 Last year, CHARM IT! teamed up with Crayola for the annual 2014 Creativity Design-A-Contest yet! Kids up to age fourteen were invited to unleash their imagination and enter an original charm design for a chance to have it produced and sold in our new co-branded contest collection…and did they ever! Little artists from all over the country flooded our offices with some of the most creative and imaginative designs we've seen! So now we present to you the 12 amazing winning designs and the CHARM IT! girls that created them!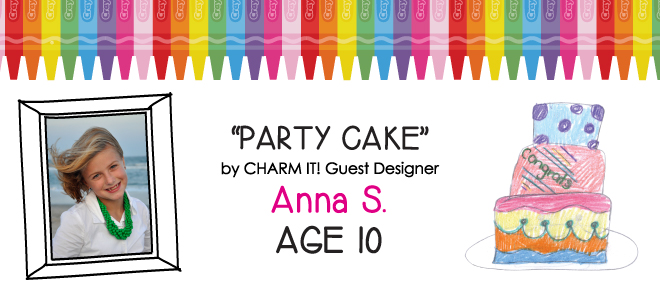 Anna has been collecting CHARM IT! for three years now and already has over 30 charms in her collection, soon to include her very own Party Cake charm. When her grandma brought her all the way to the Big Apple, you know she had to get something for the occasion! The 'N' and 'Y' charms were just perfect to remember the trip. Anna is an enthusiastic swimmer and wants to compete in the Olympics one day. When she's not in the pool or in class, Anna likes surfing, rollerblading, and hanging out with her friends!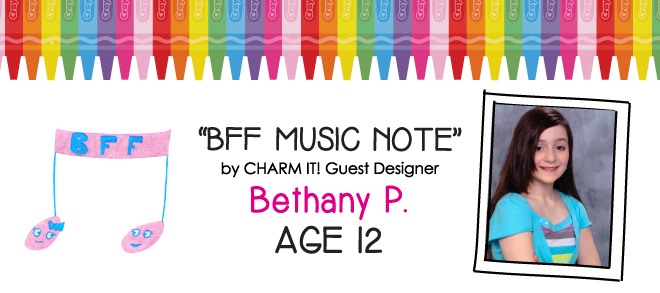 Bethany had a simple reason for creating her BFF Music Note design. She loves her friends and she wanted to create a charm for BFFs who love their friends as much as she does! It shouldn't come as much of a surprise, but when Bethany isn't making music videos with her friends, music is still at the top of her to-do list. She absolutely loves singing and playing the piano! Bethany is also a big sister, with two little brothers and one sister. Easy to see why her Big Sister charm holds a special place in her collection!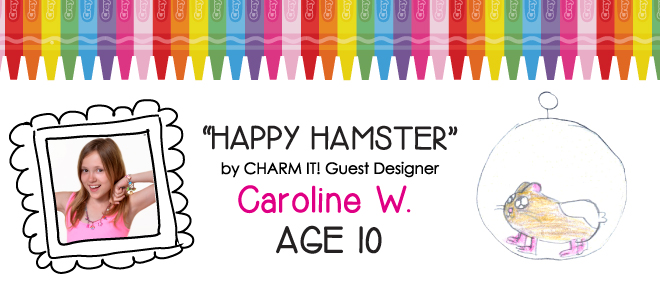 Caroline has a special story about designing this Happy Hamster! When her older brother moved to Los Angeles, he left behind his hamster Taryn for Caroline to look after. Turns out, it was the little hamster and her ball that looked after Caroline when she broke her leg ice skating last winter! She thought the perfect way to remember Taryn was to immortalize her in charm form…and she succeeded! Caroline loves art and makes fun crafts out of duct tape. Creativity for her knows no bounds!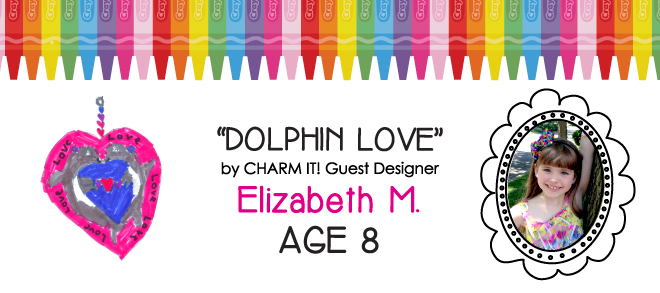 Being a dancer allowed Elizabeth to really celebrate in style when she got the news of her Design-A-charm win for her Dolphin Love charm. The second she heard, Elizabeth broke into a series of round offs and jumps for joy! As you may have guessed, Elizabeth is an animal lover who, if she was President, would find a home for every homeless animal in the country. With over 23 charms in her collection, Elizabeth was able to point to one in particular that meant a lot to her. The Nail Polish charm, she said, reminded her of the spa days her and her mom go on to get their nails done! And in an adorable mommy and me tradition, they head out to the store to pick up a charm every Mother's Day!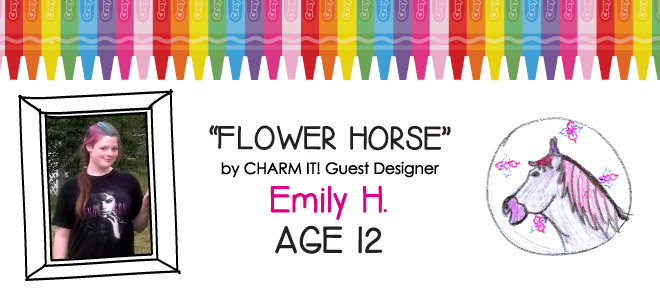 When we asked Emily to tell us what inspired her Flower Horse, she explained, "I love horses and there weren't any in the collection. So I decided to design one because…you need horses." Well said, Emily! Emily loves acting and her favorite subjects in school are art and science. And like lots of us, she has a hard time picking out a favorite charm, she just loves them all!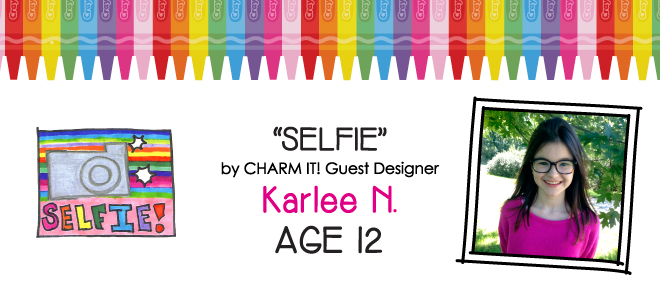 Karlee's win in our Design-A-Charm Contest will be a moment she remembers forever. Her mom framed her congratulations email and now it's hanging in her room! She got the idea for her Selfie design from her pets! They just love taking selfies with her! One day she'd like to work with animals as a veterinarian or marine biologist. And in case you were wondering, her favorite food is lasagna!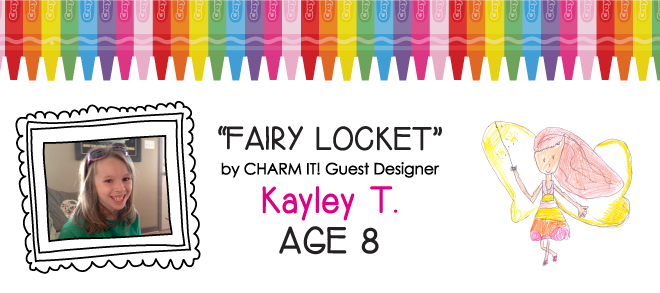 Kayley is an aspiring elementary school teacher with a soft spot for fairies so…making her super fun Fairy Locket design was a no brainer! When asked to describe her daughter in three words, her mom said friendly, looney, and imaginative. That's the kind of CHARM IT! girl we love to hear about! It should come as little surprise that she loves to draw in her spare time and, in case you were wondering, she thinks her little brother Aidan is the funniest person in the world. Aww!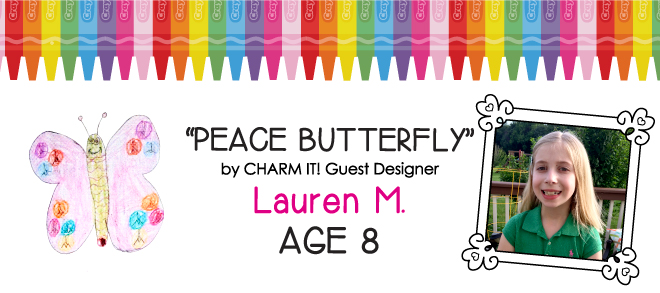 Lauren has dreams of becoming a chemist, just like her dad! Now with her Peace Butterfly design becoming a charm that girls everywhere can rock, it's her turn to be an inspiration! Lauren is a funny, loving, and helpful girl, and has been a CHARM IT! collector since she was 6 years old. When Lauren's not reading, she's having a ball hanging with the family!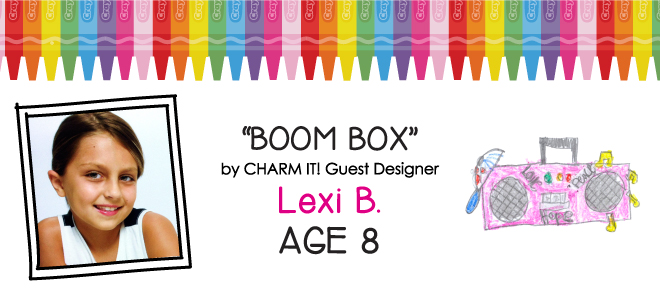 It doesn't take much investigative work to figure out that Lexi LOVES music, her Boom Box design says it all! Music isn't her only passion though, Lexi is an avid drawer and is something of a math whiz. She is also a huge fan of the Ole Taco charm. As far as her favorite food goes, it's a tie between Pizza and Dark Chocolate! To top it off she's got a food related favorite word, too: waffle!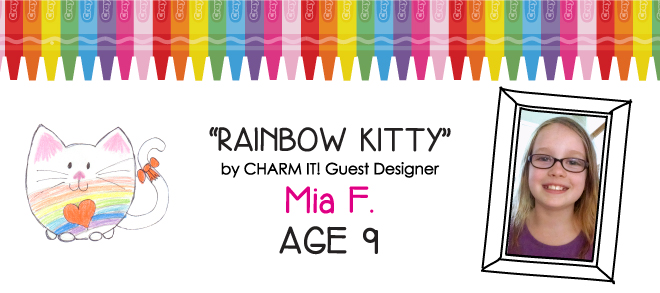 With so many entries, you can imagine it might come as a bit of a surprise to some of our winners that their design would actually become a real CHARM IT! charm. Mia, for example, didn't quite believe her mom at first! It took a little while, but after some assurance from mom, it all sunk in! A self-professed lover of cats and rainbows, this Rainbow Kitty design practically drew itself! Mia isn't quite sure what she wants to be when she grows up yet, but she's aiming high! She's already picturing herself as President, because it would be fun to "live in a really big white house and drive around in fancy cars and be like, 'Sup!'".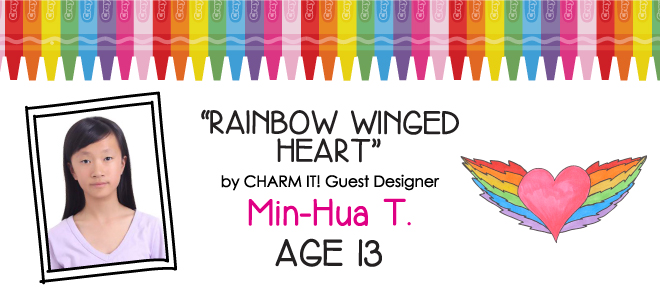 It's no secret at this point that Min-Hua was one of the lucky winners of our Design-A-Charm Contest with her Rainbow Winged Heart design, she told everyone she knew the second she found out! She's an avid drawer and reader and knows what her focus would be if she was in the Oval Office. She'd get to work improving education and building homeless shelters across the country! And she's got a soft spot for mom, saying she's without a doubt the coolest person on Earth!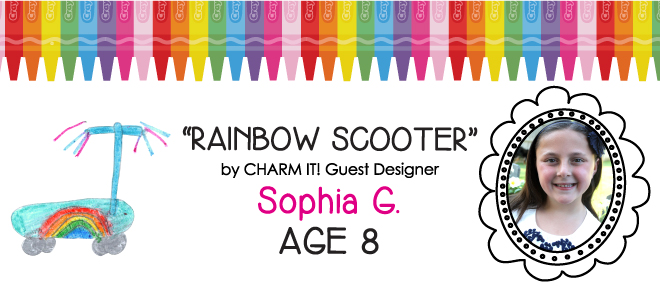 Sophia knows, what good is a celebration if you can't share it with all of your favorite people? She made sure to call everyone in her family when she got the big news that her Rainbow Scooter design would be made into a charm! She's been a CHARM IT! super collector since she was 2 years old and already has over 100 charms in her collection! Sophia wants to be a fashion designer when she grows up and she's well on her way if we do say so ourselves. Plus, we know she's got a sense of humor, her favorite word is "hilarious"!
Stay tuned for the 2015 CHARM IT! Crayola Creativity Design-A-Charm Contest and be sure to check www.shopcharm-it.com for updates!