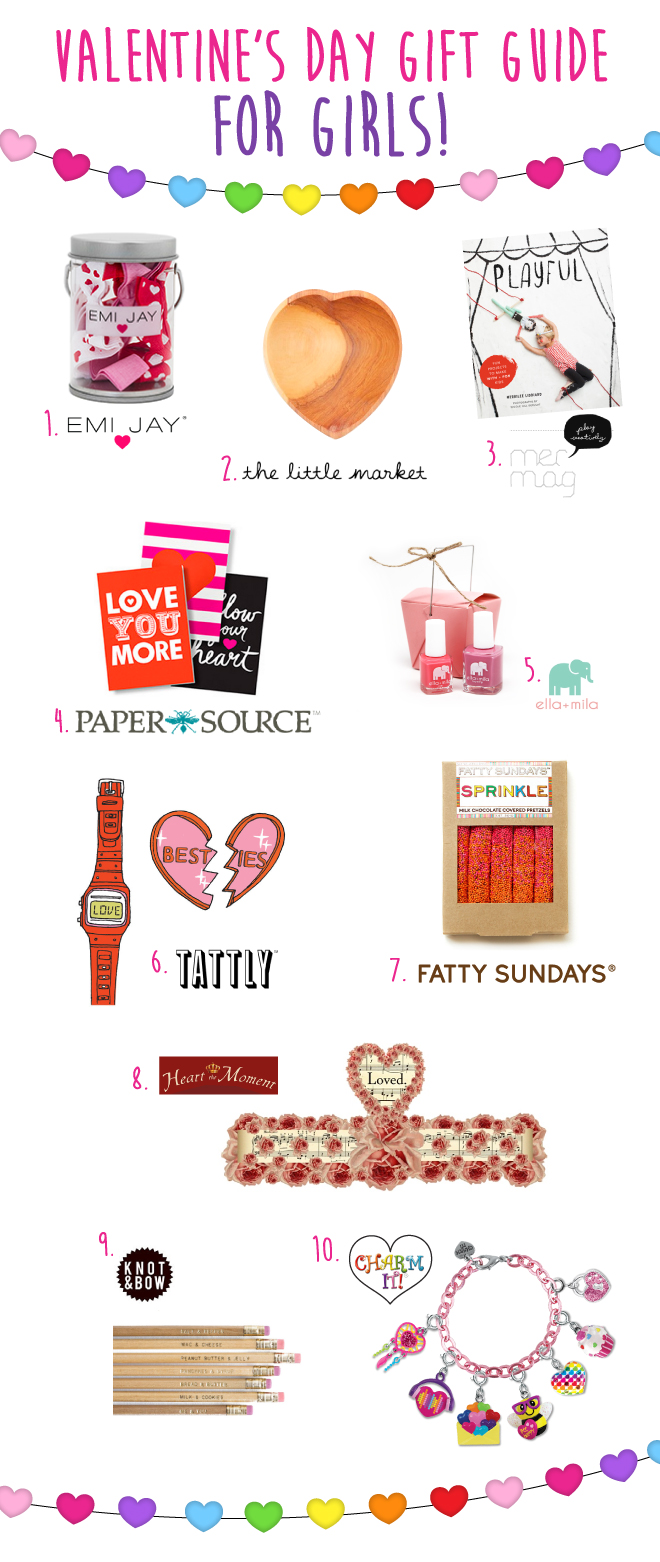 Any day dedicated to showing someone how much you HEART them is a day we're on board with at CHARM IT! HQ! Spreading love on V-Day and every day is a mission we accept with open arms. That's why we've rounded up a few of our favorite gifts (in addition to CHARM IT! of course) for the little and not-so-little girls in your life. Our choices are sure to get you some XOXOs on the V-Day and after! Not to mention, all of these goodies are $20 and under! P.S. Be sure to follow us on Instagram because we'll be giving some of these goodies away before the big day.
1. Emi-Jay
Started by teen entrepreneurs, we just love Emi-Jay's story and Valentine's Day selection. Their Hugs + Kisses Paint Tin with heart-themed hair-ties caught our eye and it was love at first sight. Perfect for V-Day and every day, this set screams "I Love You!". Just think of all the good hair days she'll have in her future thanks to you. To top it all off, 20% off all Emi-Jay profits are donated to charity. Done and done!
2. The Little Market
This teeny-tiny heart bowl from The Little Market is so very sweet, it will melt her little heart! The wood is hand carved and sculpted to perfection by Kenyan wood carvers (how many times have you heard that sentence before??). Created by sweetheart/tastemaker Lauren Conrad, The Little Market serves as a virtual marketplace for women artisans around the world to showcase their talent and craftsmanship.
3. Playful by Mermagblog
Playful by Merrilee Liddiard is beautiful fun-filled activity book that holds hours of creative crafts for kids to create alongside their parents – think dollhouse made out of cardboard! With over 25 projects, this book will send your little Valentine's imagination soaring! And the fun doesn't have to end there! Creator Merrilee Liddiard runs the Mer Mag blog, which was voted 'Top for Kids' by Babble in 2012 and we can see why.
4. Paper Source
Plain notepads be gone, there's a new journal (or three) in town! These mini Sentiments Journals by Paper Source are the perfect goodie for any little writer who is in touch with her emotions. Each bound with a different (and delightful!) design like "Love You More" and "Follow Your Heart", serve as part journal and part inspiration. Find these keepers on Paper Source or on one of our favorite bloggers/party stylist The TomKat Studio.
5. Ella + Mila
We absolutely love Ella +Mila and their Mommy & Me customizable Mini Take-Out Box Set. This set comes with an adorable take-out box, one "mommy" nail polish, and one "me" nail polish in tons of amazing colors to choose from. Always toxin-free and safe for use, Ella + Mila provides the perfect Valentine's Day activity for any glam girl! We see mother-daughter manis in your future!
6. Tattly
Tattly's non-toxic "designy" temporary tattoos are major eye candy and we can't get enough! With different tattoos for just about any occasion and then some, it should come as no surprise that they've got the perfect designs for Valentine's Day. We've got our sights set on the Love Watch and your little recipient will, too, when she spots this wrist wear. LOVE O'Clock is officially our new fave time of day! Looking to gift a friend, too? Then the Little Besties design will be right up her alley, one for her, one for her bestie!
7. Fatty Sundays
Put a twist on the classic Valentine's Day chocolate and send some chocolate covered pretzels by Fatty Sundays! Colorfully sprinkled, these delights are a sweet and salty treat for your little sweetie. For an added, extra special bonus, you can even customize the label and packaging with any heartfelt message of choice! Now we're sweet talking!
8. Heart the Moment
This paper tiara from Heart the Moment is the perfect gift to show some Valentine's Day spirit! Anything but ordinary, the heart and music notes will let her know she's "Loved." Complete with a card and envelope for a little love letter, this Valentine is just waiting for you to seal it with a kiss! We guarantee she'll feel like a princess or queen of hearts!
9. Knot & Bow
What better way to write a Valentine than with a Me & You pencil by Knot & Bow? Their Me & You pencil set includes 7 pencils, each engraved in gold with perfect pairs like Cookies & Milk, Pancakes & Syrup, Peanut Butter & Jelly, etc. You get the message and so will she when you gift her with this new addition to her pencil case. Move over #2s.
10. CHARM IT!
The key to a very happy heart day is to gift her with a personalized present! Enter CHARM IT! into the V-Day equation and you've got the perfect gift. With over 200 charms to choose from, you can customize a bracelet or necklace with all her fave things! We mean all her fave things… from music, art, and fashion to animals, sweets, and sports, etc. The list goes on and on and we've got you covered with our mini-masterpieces that are sure to make memories and smiles for miles! See for yourself and let her collection begin.
What will you be getting your little heart melter?