What is a Cinderella Story? I believe a Cinderella Story is anytime in your life when you have an unforgettable moment and feel like you are living a dream. My Cinderella Story began with a Girl's Night Out…
When my friends and I got the news that Boys II Men, 98 Degrees, and New Kids on the Block would be in town, it took us all about 2 seconds to agree that this concert was the plan! What better way to have a Girl's Night Out than singing and dancing to our favorite Boy Bands? Tickets were bought, songs were practiced, perfect outfits selected, and the countdown had begun!
The night had finally come, and with our tickets in hand, we found our seats… all the way in the second to last row in the whole place! After a few moments of shared disappointment, we decided to stay positive. It was Girl's Night and we were not going to let our super-high seats bring us down!

The lights went low and the spotlight hit the stage. Boys II Men stepped out and everyone went wild. I knew that this was going to be an awesome night, but little did I know, it was about to get even better.
While watching the band perform their first song "On Bended Knee" I looked down at my phone and noticed a text message from boyfriend, Matt. What could he possibly want!? It read "Bring everyone to Suite 110." What?!? Is this for real? There was only one way to find out.
We made our way down and sought out Suite 110. After a few knocks, the door opened and it was all of Matt's sisters! I knew they were going to the concert, but did not know they got a suite! It turned out to be a last minute decision and they wanted to surprise me and my friends!
The suite was amazing. It had two rows of seating, plenty of room for dancing, a private bathroom, and a perfect view of the stage! A few minutes ago we were in the second to last row and now we were in our own suite. We felt like celebrities! I consider Matt and his sisters my fairy godmothers in this Cinderella Story!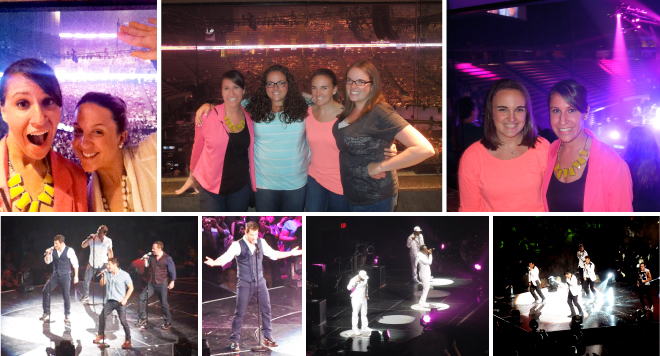 Now that we were enjoying the "suite" life, the concert was absolutely amazing! We danced the night away & heard some of our favorite songs: "End of the Road" (Boys II Men), "I Do" (98 Degrees) & "Step By Step" (New Kids on the Block) just to name a few. It was the perfect Girl's Night Out! Being with best friends and having so much fun, what more could a girl ask for?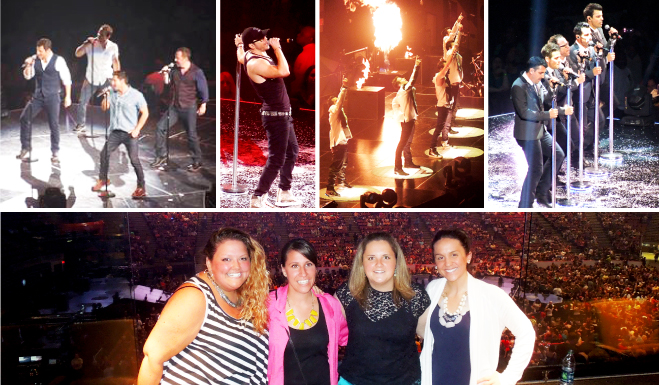 The night did eventually come to an end, but it will never be forgotten. You never know when a Cinderella Story may pop up in your life. Get your best friends together, plan a fun night, and create some memories that will last a lifetime! You deserve it! If you missed this tour in your town, here is my "Boy "Band" Crazy!" playlist!