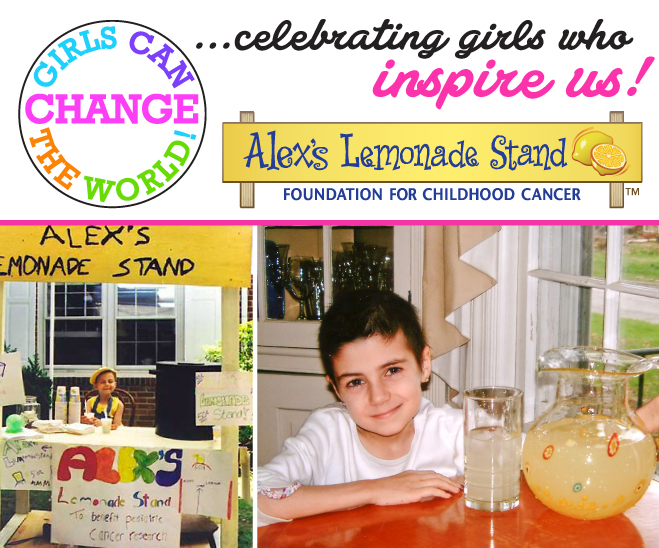 Alex's Lemonade Stand Foundation is the namesake of Alexandra "Alex" Scott, who after being diagnosed with cancer just before her first birthday, decided at age 4 that she wanted to have a lemonade stand in order to donate the proceeds to cancer research. Her first stand raised an amazing $2,000 in one day!
The Foundation bearing her name has evolved into a national fundraising movement, complete with thousands of supporters across the country carrying on her legacy of hope. To date, Alex's Lemonade Stand Foundation has raised more than $100 million toward fulfilling Alex's dream of finding a cure.

It is in that spirit that you can get involved, too! Setting up your very own lemonade stand to raise money for childhood cancer research is an amazing way to make a difference, and ALSF offers easy steps to help organize a successful stand! Here's how.
1. Register at www.alexslemonade.com
Choose your location, date, and time, and make your way into the Alex's Lemonade Stand database. They can even send over a free fundraising kit filled with an Alex's Lemonade Stand banner, goal posters, ALSF brochures, FAQs, and more!
2. Spread the word!
When you register, you'll automatically receive an online fundraising page that can be shared on social media or by email to get the word out! People that may not be able to visit your stand can still take part in the donations, too. Putting up fliers and contacting local radio and television stations are also a great idea.
3. Hold your stand!
The foundation suggests asking for a donation, rather than placing a price on each cup of lemonade. Consider adding some baked goods or snacks to your stand, too. There's not just one way to run a lemonade stand, so feel free to get as creative as you'd like!
4. Send in your donation!
Download the form and mail it to the address below. Include your event ID number and your page will be updated with your donation total.
Alex's Lemonade Stand Foundation
333 E. Lancaster Avenue, #414
Wynnewood, PA 19096
For even more info, visit www.alexslemonade.org. During the month of August on www.shopcharm-it.com, 50% of the purchase price of a selection of CHARM IT! charms will be donated to Alex's charity in support of her mission to raise money and awareness of childhood cancer causes, primarily research into new treatments and cures. Get inspired and shop the selection!