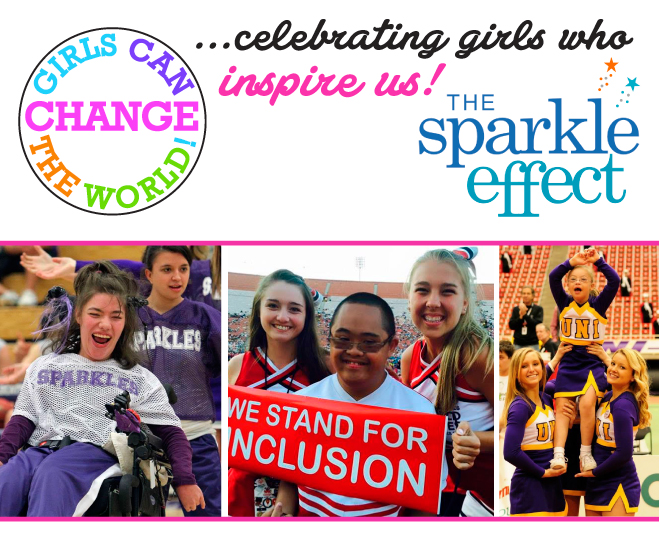 Like many great stories, this one began with a simple act of kindness. The founder of The Sparkle Effect, Sarah Cronk, witnessed firsthand the enormous change made possible by a small act of inclusion, when her older brother Charlie entered high school. Charlie had a disability and struggled to make friends until an upper classmen encouraged him to join the swim team, drastically improving his high school experience. Sarah, then 15, decided the next year to form the very first high school based cheerleading squad to include students with disabilities! Since then, over 150 inclusive teams from coast to coast have been formed!


Meet Sarah – the founder of The Sparkle Effect. During the month of September on www.shopcharm-it.com, 50% of the purchase price on a selection of CHARM IT! charms will be donated to her charity in support of the mission to include students with disabilities on school sports teams all over the USA!


1. What's your position and responsibility at The Sparkle Effect?


As the founder, President, and Creative Director of The Sparkle Effect, I do a little bit of everything! I focus mostly on promotion, branding, graphic design, public relations and fundraising. I also work closely with our on-site training program, which allows me to travel across the country to work with new teams as they're getting started.


2. How did you come up with the idea and name for the organization?


I was inspired by my older brother Charlie, who has a disability. When he entered high school, he struggled to make friends until a popular upper classman encouraged him to join the high school swim team. Joining the team dramatically improved Charlie's high school experience, and helped me understand the power of acceptance for the first time.


The next year, I created the nation's first cheer team that includes students with and without disabilities practicing and performing together as one team– The Pleasant Valley High School Spartan Sparkles.


After the Sparkles debuted, students with disabilities began to experience more social inclusion in the classroom, the cafeteria, and in other schools sports and clubs. When members of the school and community noticed the shift, they called it "The Sparkle Effect." When we decided to start an organization to create more inclusive cheer programs in other schools, The Sparkle Effect seemed like the perfect name!


3. Tell us one of your favorite and most rewarding experiences working with your charity.


I will never forget my experiences with one of the girls on our local Sparkles squad. Alison arrived at the first practice with a unique set of challenges. For several practices, she came dressed in a variety of different costumes. She spoke only if called by the name of the particular character (like Hannah Montana) she had dressed as that day. At first, I didn't know how to handle the situation, so I looked to Alison's mom for guidance. Her advice: just go with it.


During the first few football games, Alison attached herself to one of our peer coaches – literally. Alison clung tightly to her arm, and would not to let go even to clap or jump. Bit by bit, we saw the costumes less often. Alison began to respond to her own name, to interact with the other girls, and to participate right along with everyone else. She even began calling her teammates to arrange movie dates and shopping trips.


Now, it is always Alison, not Hannah Montana, who shows up to practice. It is Alison who cheers in front of hundreds of fans. It is Alison who struts out onto the basketball court independently, confident that her teammates are there if she needs them, but also confident that she can sparkle all on her own.


4. How has The Sparkle Effect changed people's outlook to students with different abilities?


I believe that inclusion is not so much an activity as it is a way of thinking. Through The Sparkle Effect, individuals both with and without disabilities start to see possibility where they used to see barriers. When our teams perform under the Friday night lights, audiences see – often for the first time – what these students can do. I think that a coach of one of our Sparkle Effect teams explains it best: "One man, every time he sees me, says the same thing, 'Are the Sparkles here today?' and he always says something to the effect of, 'I never thought someone in a wheelchair could do something like that.' [Community members] are starting to realize that just because someone may have a physical or cognitive challenge, that doesn't mean they're limited in what they can do. We just need to be a little more creative in how we include them. These young men and women have probably heard 'no' so much in their lives. We say, 'Yes, you can. Join us.'"


5. Tell us three words that best describe you.


Spirited – Like any cheerleader should be! I believe that the most successful people are passionate and enthusiastic about their work, so I try to bring positive energy to The Sparkle Effect every day.


Determined – I'm so proud that we've generated over 150 inclusive teams from coast to coast, but I know we can accomplish so much more. I'm dedicated to reaching as many students as I can.


Goofy – I definitely take my job seriously, but I try not to take myself too seriously! I love to be silly and have a good time – especially when I'm working with new Sparkle Effect teams.


6. What are the future plans for The Sparkle Effect?


Ultimately, I hope to put myself out of business. I live for the day when The Sparkle Effect is no longer needed, and I certainly intend for The Sparkle Effect to lead the charge until inclusion becomes the norm for all school sports and activities.


In the meantime, we plan on continuing to generate and support as many inclusive cheer teams as we can! During the summer, we spend a lot of time training new teams to prepare them for football season. This fall, we'll be seeing more than 10 new teams through their first season, while also helping brand new teams gear up in time for winter sports!


7. Do you have any advice for kids who are interested in helping others?


First, adopt an unwavering belief that you can and will make a difference. If you have an idea and fully commit to it, doors will open for you.
Second, if and when you get stuck, let go of the uncertainty about the big picture. When I started The Sparkle Effect I had no idea how far it would take me. One of my favorite quotes is: "Wisdom lies not so much in knowing what to do in the ultimate as in knowing what to do next." So, just do something! Then do the next thing and the next thing and the next . . .
Finally, don't be afraid to ask for help. When I was first getting started, I was very insecure about asking for help. I worried that if I admitted that I didn't always know what to do, adults wouldn't take me seriously. Boy was I wrong! When I finally started reaching out and asking for advice, I was blown away by the generosity and guidance I received. Just remember to take time to thank anyone who lends a hand. A little gratitude goes a long way!


Sarah has truly proven the awesome power of inclusion and is a constant example to us all! Through The Sparkle Effect, she has set in motion a chain reaction of peer to peer teaching that is breaking down barriers and enriching lives. Support The Sparkle Effect throughout the month of September at www.shopcharm-it.com.