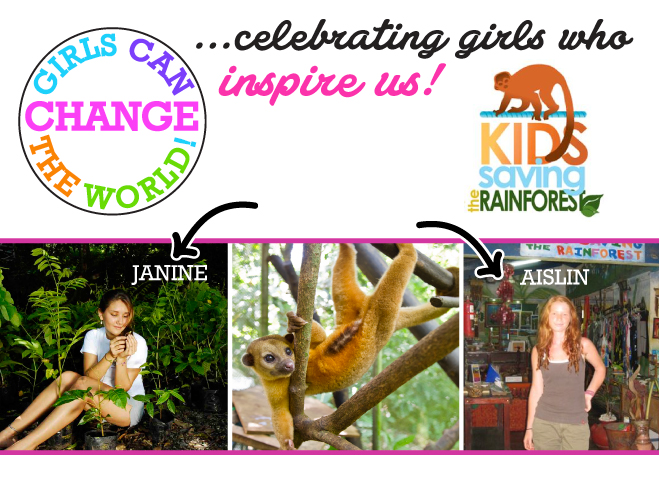 In 1999, two 9-year-olds in Costa Rica were witnessing firsthand the deforestation and habitat destruction occurring in the Manuel Antonio rainforest. Resolving to do something about it, their idea has evolved into an organization that continues to make a difference today! Janine and Aislin have since passed the torch of running the day to day operations of Kids Saving the Rainforest down, but it remains a cause near and dear to their heart!


Meet Janine and Aisle, founders of Kids Saving the Rainforest. During the month of November on www.shopcharm-it.com, 50% of the purchase price on a selection of CHARM IT! Charms will be donated to the charity in support of the mission to protect the rainforest and its animals in Costa Rica!


1. What is your role and involvement with the charity today?


Janine: I am the Secretary of the Board of Directors and handle all affairs that take place in North America.
Aislin: My role with Kids Saving the Rainforest has been occasional since I relocated to Canada in 2007; however, I keep track of KSTR's major developments and activities from abroad and explore the headquarters whenever I visit Costa Rica.


2. Tell us one of your most rewarding experiences working with Kids Saving the Rainforest.


Janine: I can't think of a single rewarding experience, there are so many, but several of the most rewarding experiences I've had with KSTR has always been while working with our animal rehabilitation and release program. You give animals that would otherwise have no hope of survival on their own in the wild a second chance.
Aislin: One of my most rewarding experiences working with Kids Saving the Rainforest was during a site visit to the new headquarters location outside of Quepos. We were assessing the location of a future fruit tree forest to supply the animals in rehabilitation with a local supply of fruits and nuts. Surrounded by a mix of farmland, plantations, and tropical forest, the prospect of being able to plan a food forest of local tree species was very exciting.


3. How has your charity made a difference since establishment in 1999?


Janine: KSTR is now present in over 30 countries worldwide, we have over 10,000 members and volunteers in Costa Rica and abroad, and we have rehabilitated thousands of animals and planted over 40,000 trees. However, aside from these accomplishments, our main goal has been to inspire children around the world to make a difference…we can ensure that our progress will not end with us, but will continue for years to come.
Aislin: The growth of the wildlife rehabilitation center over the past few years at the new KSTR location has been truly astounding. The highly qualified crew of staff and volunteers finally have the facilities and the space to provide care for injured wildlife that otherwise couldn't be treated in this region of the Pacific coast. I couldn't be prouder!


4. Tell us three words that best describe you.


Janine: Dedicated, passionate, resourceful.
Aislin: Goofy, pragmatic, nature lover.


5. What's next for Kids Saving the Rainforest?


Janine: KSTR is in the process of acquiring 200 acres of land, as a donation, which we will reforest with 45,000 trees. Additionally, our volunteer center can sleep approximately 15 volunteers and we are expanding the program by adding 8 new beds for students, professors, and researchers.
Aislin: KSTR is rapidly spreading awareness of rainforest conservation from local classrooms to global TV audiences. Stories of how its work directly impacts not just a single species, but whole ecological communities is engaging a new generation of students and conscientious travelers.


6. Do you have any advice for kids who are interested in pursuing their own charitable cause?


Janine: Decide what you want to do and do it! And if you need help, ask for it.
Aislin: When you choose a cause to promote, understand its role within the broader community of activists working for positive change both at home and abroad. Be inclusive, creative, and engaged, but most of all, do what you do with heart!
Janine and Aislin's achievements illustrate that age is just a number! With enthusiasm and dedication, anyone can make a difference in a cause near and dear to their heart. Support Kids Saving the Rainforest all November long at www.shopcharm-it.com!