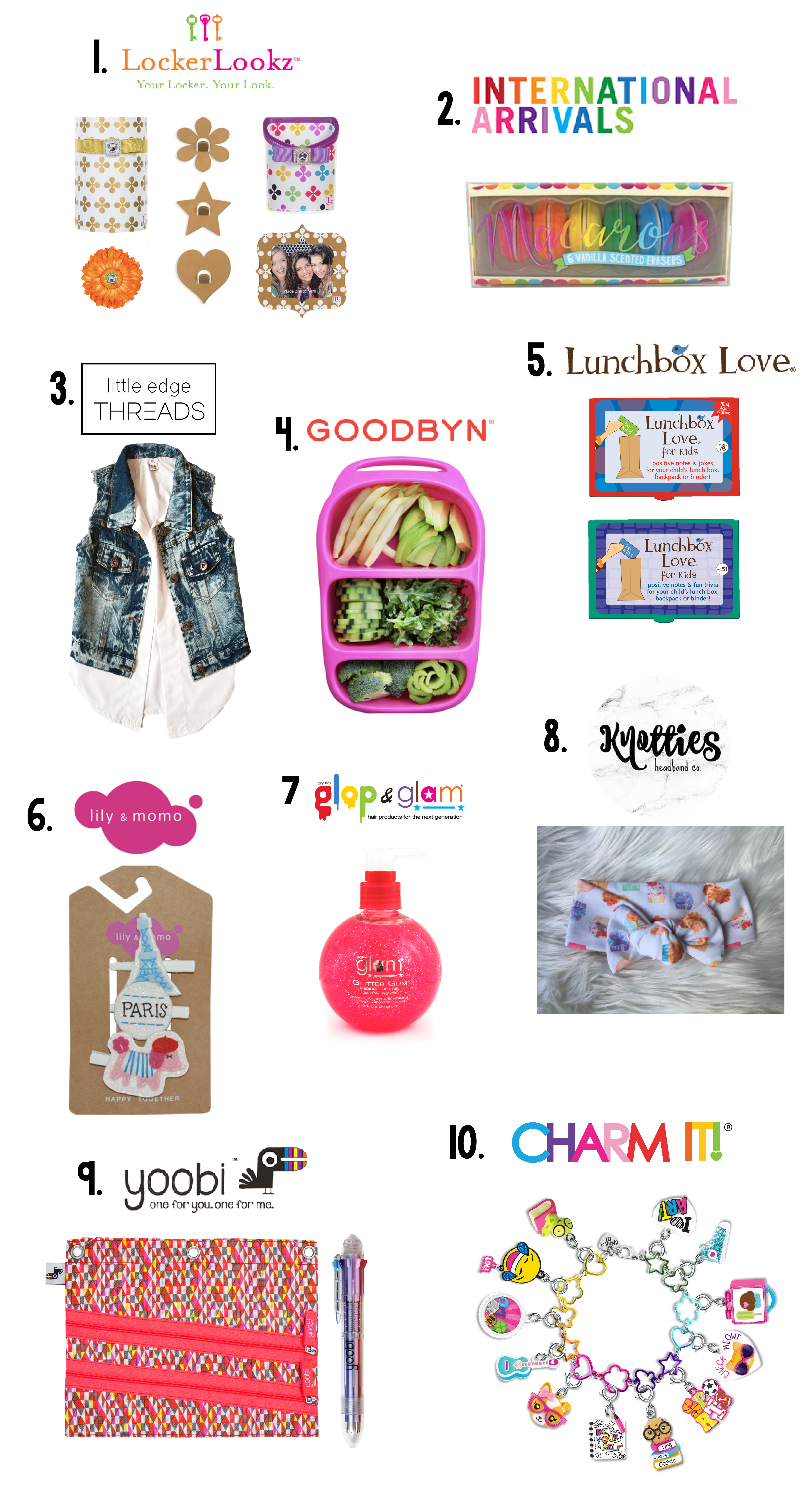 We know, we know, it's tough to say goodbye to summer! Thankfully, we've put together the perfect list to get you and yours back into the school swing! Our "what's what" of too-cool-for-school items will have your little one getting back to the books!
Locker Lookz
Locker Lookz is a one stop shop for all her locker decorating needs. You can start her off with their magnetic locker bins, adorned with clover prints and tons of color. Then, add a dash of light to the equation with the Locker Light. Operating on a motion sensor, every time she opens her locker she'll really be "seeing the light!" Hey, remember lining your locker with pictures of you and your BFF? Well, she can do that in style too, with these magnetic picture frames! Consider this a decorating done deal!
International Arrivals
These Vanilla Scented Macaron Erasers from International Arrivals are the perfect accessory to make school work a cool and colorful experience. Making mistakes will be more than a learning experience with these vibrantly colored erasers on standby!
Little Edge Threads
Back to school also means flaunting those stylish new clothes! This denim vest from Little Edge Threads will be the new go-to addition in her wardrobe! The dark denim piece is faded all over for a vintage feel and is even layered with a white blouse underneath, making her first day look on point!
Goodbyn
Avoid any lunchtime mishaps for picky eaters with this Pink Goodbyn Bynto! With three independent compartments, keeping each part of her lunch separated is as easy as pie. Lunchtime will be looking good all year round!
Lunchbox Love
Remind them how much they're loved with Lunchbox Love Notes! These love notes combine inspirational and positive quotes on the front, with fun trivia on the back to keep your kiddos entertained. They'll be looking forward to the surprise each and every day!
Lily & Momo
Get whisked away to the wonder of the City of Lights with just a quick clip! This Paris Trio Alligator Clip set is an adorable homage to Paris that your little one will love. Each oh-so-stylish clip will be the perfect addition to her outfit of choice. Happy good hair day!
Glop and Glam
This Glam Glitter Gum Gel will give her the volume, hold, and sparkle needed for the hair day of her dreams. This is hair styling made simple for "sought after strands" according to Glop and Glam and we're believers!
Knotties Headband Co.
It's time to bring on the sweetness! Knotties Headband Co. has done just that with their Cupcake Headband. Patterned with tons of colorful cupcakes, this one-size-fits-all headband is confection perfection!
Yoobi
Say hello to these classroom stand outs! This Triple Zip Binder Case and 8 Color Retractable Ball Point Pen have high-function and fun in mind! Take notes, these supplies get an A+.
CHARM IT!
CHARM IT! is full of bright ideas for back-to-school and beyond! Did she pass that pop quiz with flying colors? Ace the test? Do an awesome job on her project? Reward her with a charm to add to her collection. After all, smart cookies should be celebrated! Visit our www.shopcharm-it.com and find all the charms that speak loud and clear to the special little girl in your life!