Can you believe this summer is already over, and the holidays are around the corner? I keep thinking about the sand castle I was supposed to build, the "DIY" shorts I was supposed to make, and the BBQ party I was supposed to have! There were so many "summery" things I wanted to do that I just never got to.
Well, guess what? This fall, time will not escape from me! I vow to have the best, most productive fall ever! To keep me on track, I made a "To Do" List. I will do every single thing on my list! Would you like to join me?
Keep your list somewhere where you can to see it every day. Mine is going on my bulletin board with a calendar underneath so I can schedule things for certain days in advance! To keep you on track and make things super easy, print your very own "To Do" List and calendar here!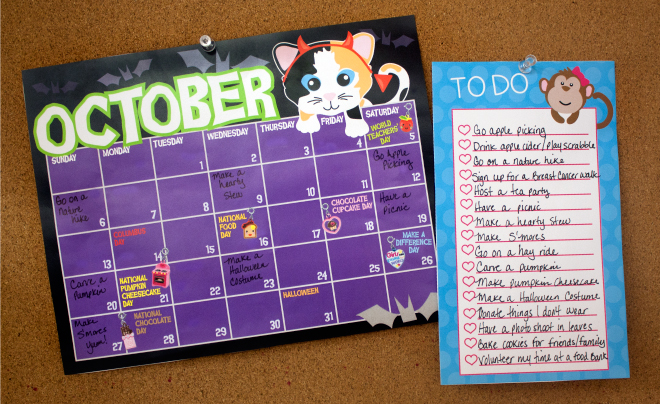 Here is my list if you need some inspiration for fall fun!
Go apple picking
Make a DIY Halloween Costume
Drink apple cider and play scrabble
Carve a pumpkin
Go on a nature hike
Host a tea party
Have a picnic
Make a hearty stew
Go on a hay ride
Make pumpkin cheesecake
Donate things I don't wear
Have a photo shoot in the leaves
Bake cookies for my friends and family
Volunteer my time at a food bank
Sign up for a Breast Cancer walk
Visit "the tree" in NYC
If you have any additional ideas, tell me in the comments section! Happy fall!