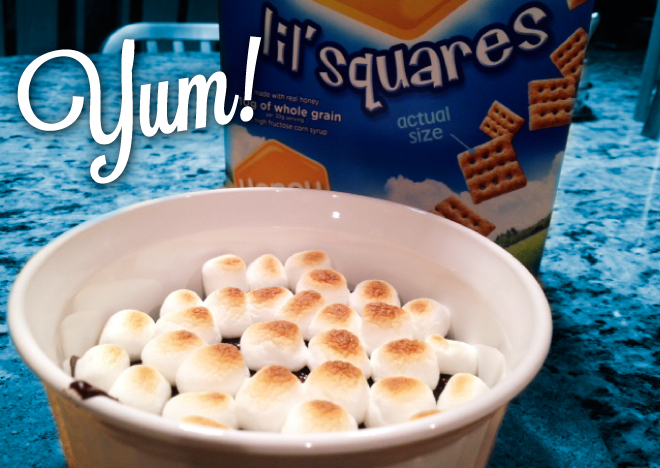 On the first official night of fall, my friend made a treat that I just have to share: S'mores DIP! It's super simple and sure to satisfy your sweet tooth. The best part? It can be enjoyed in the comfort of your home.
Let's face it… S'mores are good any day, anytime, all year 'round! If you're like me and prefer to stay nice and cozy indoors as the temperature drops outdoors, this is a sure-fire, no campfire required treat to please.
All of the essentials are still present: marshmallows, chocolate, and graham crackers. Extra bonus – no twigs for roasting those 'mallows necessary.
Here's how to enjoy this classic favorite indoors!
2 cups of mini marshmallows
1 cup of chocolate chips (semi-sweet, milk, dark, white – all work!)
2 tsp of milk
Graham crackers
Directions:
Melt 1 cup of mini marshmallows and 1 cup of chocolate chips in a saucepan on the stovetop. Add 2 tsp. of milk, and stir until melted and smooth. Transfer into an oven-safe dish, and top with marshmallows until the mixture is covered. Place in the oven on "BROIL" for just about 30 seconds until golden brown. *Keep an eye on it, it can burn very easily!
Enjoy with graham crackers, or mix it up with something different like pretzels or animal crackers… mmm, bon appétit!