It's family night and the theme is…you guessed it, HALLOWEEN (because who doesn't love spending time with the fam and watching a spooky movie together?)! The only problem is, between running around getting costumes ready, stocking up on candy, and making dinner, there is no time for dessert! Let's face it, that spooky movie just wouldn't be the same without a halloween treat to go along with it! That's why this deliciously creepy ice cream cake is sure to send chills up your spine…literally!
Here is how to make family night just a bit spookier in little to no time at all! It's so easy, it's scary! Even your kids will be fooled when you tell them you made ice cream cake for dessert! Plus, ice cream cake is perfect for any occasion! Top it with sprinkles or your favorite candy and there you have it…the perfect treat to satisfy your guests any time of the year!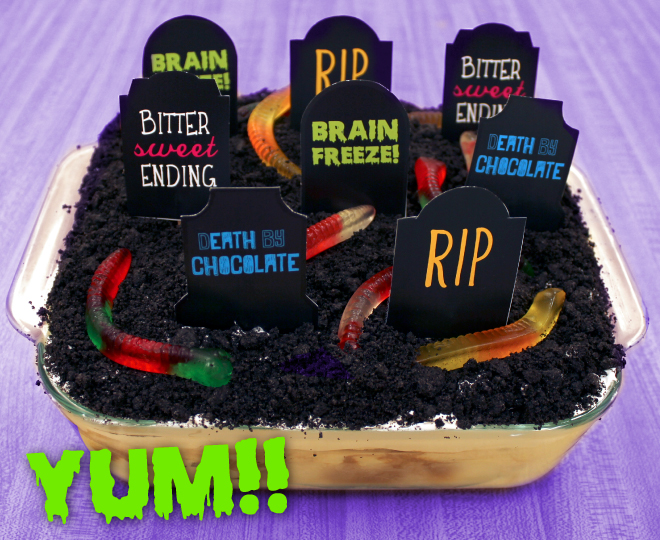 For the ice cream cake:
Square glass pan (if you are making a full pan double the ingredients)
1 Box of ice cream sandwiches
Ice cream (any flavor you think will be a hit)
Cool Whip
For the spooky topping:
Oreo cookies
Gummy worms
Downloadable gravestones (optional)
Toothpicks (optional)
Instructions:
1. Line the entire pan with ice cream sandwiches (6 should do the trick if using a square glass pan)
2. Top sandwiches with ice cream flavor of your choice (I choose cookie dough!)
3. Place the remaining ice cream sandwiches on top of the ice cream layer
4. Spread Cool Whip topping on top of cake
5. Crumble Oreo cookies to make "dirt" and cover the Cool Whip topping entirely
6. Stick gummy worms all around the cake to make them look like they are coming out of the "dirt"
7. If using the downloadable gravestones: Cut out and tape to a toothpick. Stick them around the cake to finish your spooky graveyard!
8. Turn on your scary movie, get under the covers, and dig in!