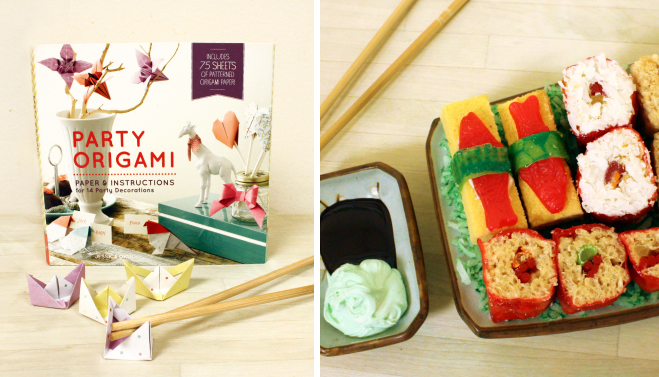 You've got the cake, balloons and perfect gift, now all you need is that little something extra to make the party complete! Sure you can pick up some cupcakes or mini ice cream cones, but haven't you (I mean they) had enough of those! Add an instant wow factor by making Candy Sushi! Little (and big) party goers will be in awe of your talents. I promise that this is the type of sushi that kids will eat!
Add another element of fun by teaching the kids how to hold and eat with chopsticks – no fingers allowed rule! If your little ones are anything like my boys, they'll love this activity. Giggles guaranteed.
Make Candy Sushi!

Ingredients:
Rice Krispies Treats (follow the instructions on the package)
Swedish Fish
Pull & Peel Twizzlers
Green Licorice or Sour Straws
Fruit Roll Ups
Fruit by the Foot
Pound Cake
Vanilla Icing
Chocolate Sauce
Shredded Coconut
For the Rolls:
1. Start by preparing the Rice Krispies Treats as directed on the box
2. Spread the Rice Krispies Treats on a cookie sheet or wax paper about half an inch thick.
3. Take the candy licorice and place it horizontally on the flat rolled out Rice Krispies Treats. Have fun with it and add any candy you want (that's small enough to roll)! I used red and green licorice.
4. Carefully roll the treats until they form a roll and cut along the edge. If you have to, mold the "sushi" so that it appears more round. Do this until all of the treats are rolled. I got 4 rolls out of one 1/2 a batch of Rice Krispies Treats.
5. Mix it up! I cut some rolls, and others I wrapped in fruit roll ups to look like seaweed! It is totally up to you! I even covered some in "rice" (a.k.a shredded coconut) for some variety! To do this, I spread a thin layer of frosting on the cut roll and rolled it in the coconut. Have fun with it! There is no wrong way to do it.
For the Sushi:
Regular sushi is much less involved, but still super cute!
1. Cut pound cake in to rectangles.
2. Place a Swedish Fish on top with a little bit of frosting to secure it.
3. Now is the fun part! Wrap a piece of Fruit by the Foot around it and TA-DA!
For Dipping:
1. To add a little extra cuteness (and tastiness) put a little chocolate syrup in a bowl for your "soy sauce" and add a drop of green food coloring to the left over frosting for the "wasabi"!
2. Don't forget the most important part…Grab your chop sticks and EAT UP!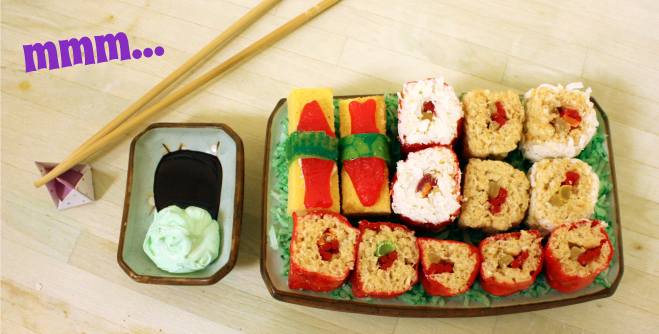 Get crowned the resident party planner and take it a step further by making some origami chopstick holders with the help of the Party Origami book by Jessica Okui. These pretty little paper objects are so fun and the instructions are so easy to follow!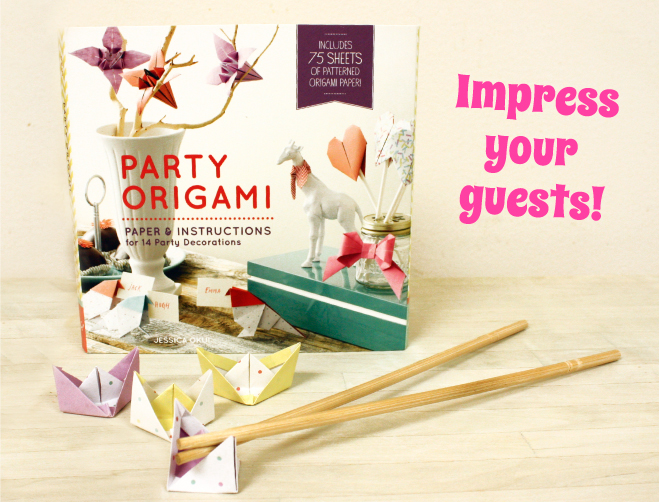 Instructions: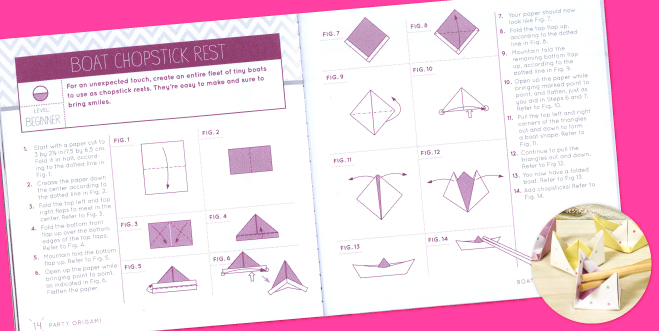 Impress your party guests with your new found love for origami as you fold and shape sweet patterned paper into interesting objects like napkin rings, place card holders, coasters and more. Be sure to visit Jessica's blog Zakkalife.blogspot.com for more DIY crafts and tutorials! I love her book Party Origami so much, that we're giving one away along with a CHARM IT! Happy Sushi Bracelet to a lucky fan!
Enter for a chance to win a Party Origami Book and CHARM IT! Happy Sushi Bracelet!