Christmas is just around the corner (12 days to be exact) and you still have stockings to stuff, presents to wrap, and lots of extra Christmas cheer to spread! Wouldn't it be nice if like Santa, we too, had little Christmas elves to help us? Wish granted! We are here to be your honorary CHARM IT! Christmas elves and spread cheer with a "12 Days of Christmas" Surprise Pack!
Print all "12 Days of Christmas Surprises" here!
Day 1:
Kick off the 12 Days of Christmas Surprises with a cute little lunch box love note. Write your own or simply cut out the one we (your honorary CHARM IT! elves) have provided. Even the Grinch himself would crack a smile upon finding a note like this next to his carrot sticks!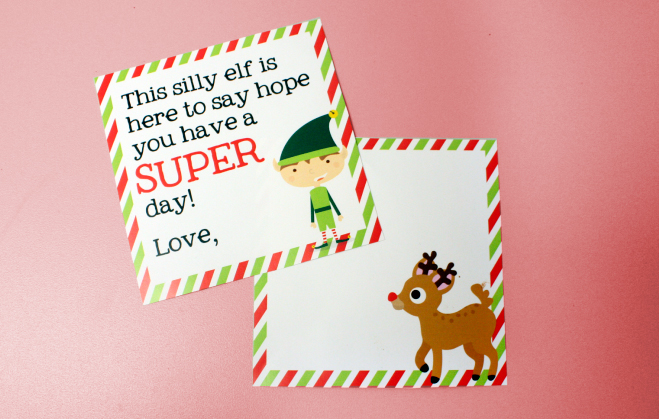 Day 2:
Dasher, Dancer, Prancer… oh you know the rest, and I'm sure your little ones do too, which is why finding these adorable little Reindeer noses alongside their PB&J sandwich is sure to make today's lunch extra special.
How to: Simply fill a clear baggy with Whoppers & one red gum ball, and then staple our "Reindeer Noses" label to the top of the bag. The perfect treat for day 2 of our 12 days of Christmas surprises done in 2 minutes flat!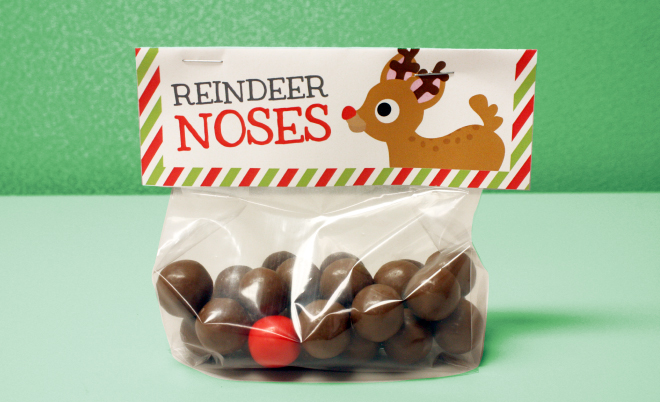 Day 3:
They say laughter is good for the soul…What better way to surprise your little ones than with some holiday jokes for them to share with their friends? Print these jokes to guarantee some lunch time giggles for the ho-ho-whole table.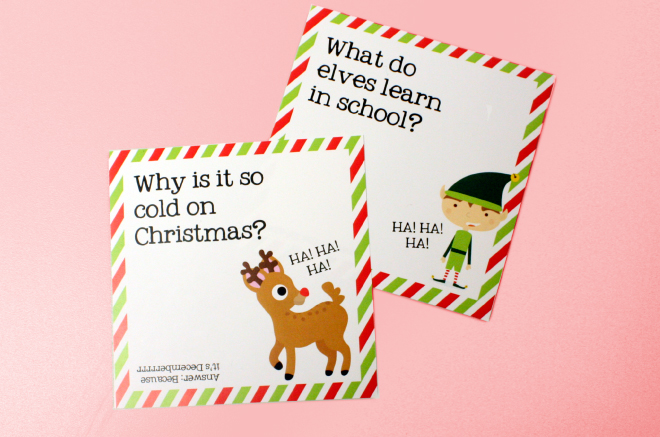 Day 4:
Finding a way to be healthy, but still be fun has never been easier! Fill a baggy with these adorable little Grinch fruit snacks that are sure to steal the spotlight! They are so easy even the kids can do it! Who would have known…the Grinch not only steals Christmas, but frees up a little quiet time for you as well. What could be better?!
How to: Stack a green grape, slice of banana, strawberry, and marshmallow (in that order) on a toothpick and there you have it! A deliciously healthy snack for your kids to enjoy!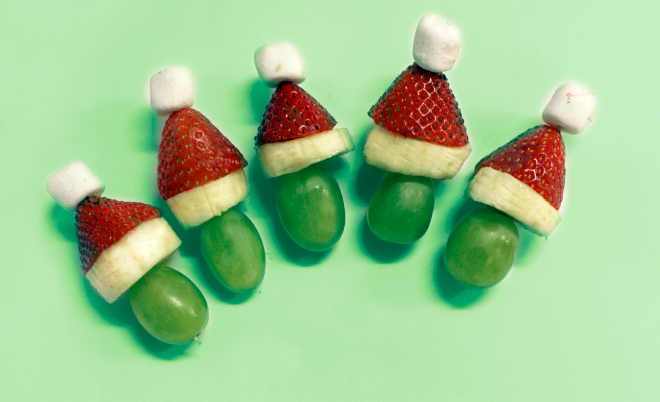 Day 5:
Want to earn some major cool points? Sneak this hot chocolate and cookies coupon into your child's lunch! While they redeem, score yourself a few minutes of peace & quiet to wrap or relax.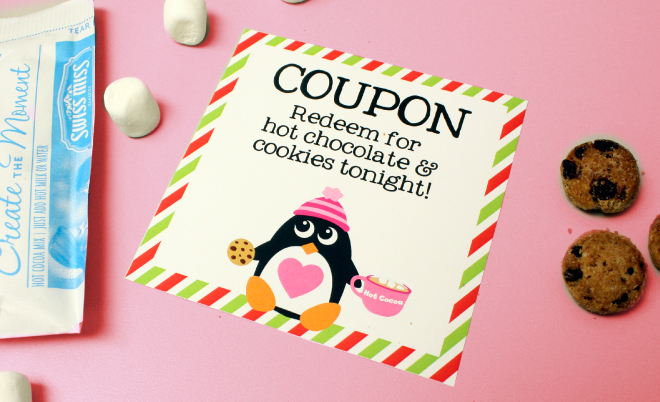 Day 6:
Bring on the holiday cheer with some Holly Jolly Christmas Juice (otherwise known as an apple juice box). It's that easy…print, cut and wrap this label around your juice box for the cutest little holiday surprise ever.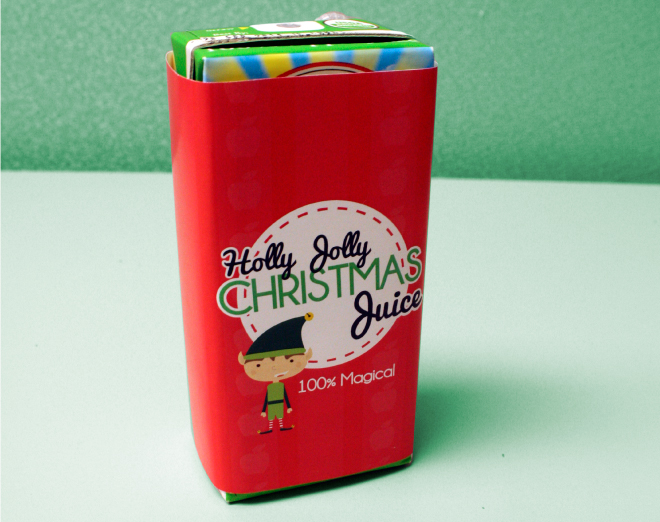 Day 7:
Lunch has never been so sweet with Christmas Candy Kabobs for dessert! You might just be titled World's Best Mom today by all the kiddies at the lunch table!
You'll need: Skewers, candy, and long clear bags. We used Christmas peeps, gumdrops, and candy rings, but it's open to interpretation! Get creative and have fun! Stack the candy on the skewer any way you like and your candy kabobs are complete!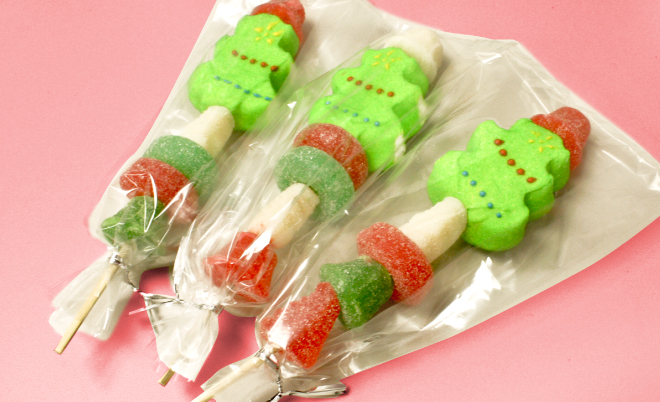 Day 8:
Running a little late with no time to make lunch? We have you covered. Print this coloring page, throw in a few crayons with some lunch money, and out the door you go. Being super mom has never been easier!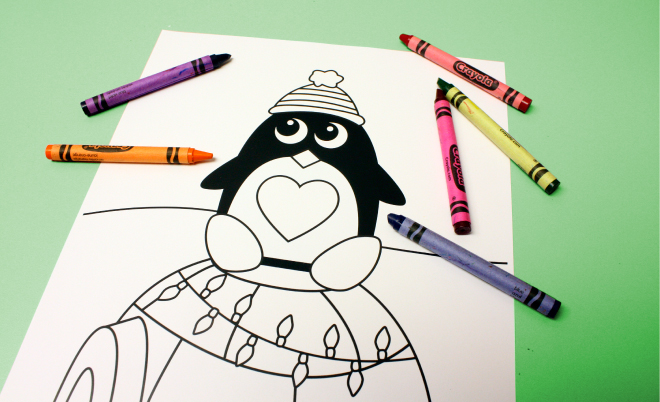 Day 9:
Today's surprise is as easy as can be. Simply grab your favorite cookie cutter and cut a peanut butter in jelly sandwich into an adorable Christmas shape. Ta-da! A couple extra seconds will lead to a couple extra smiles!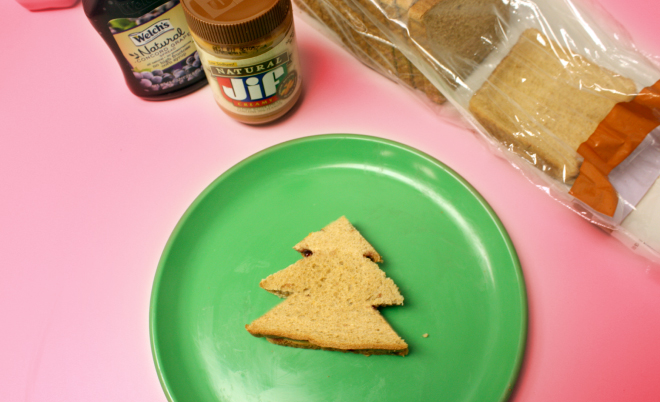 Day 10:
Make them laugh with "Anti-Grinch Pills" (better known as green mints)! Fill a baggy, print our label, and staple. Guaranteed to take the Grinchies away.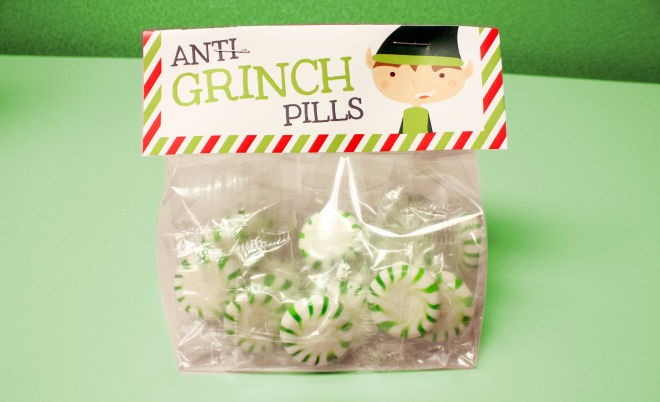 Day 11:
Water? How boring!? Not anymore when you transform their little water bottle into a magical Christmas elf! The kids will never be more excited to stay hydrated! Print our elf water bottle template, cut, and wrap it around the bottle. Three easy steps and you are done!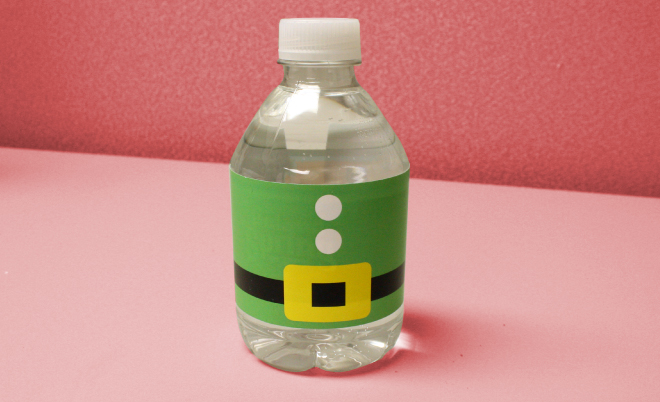 Day 12:
Today is the day! You made it! Surprise your little ones with Santa's favorite snack mix! Grab a baggy and fill it with all of Santa's favorites like: Pretzels, mini candy canes, red & green M&Ms, and of course….mini cookies (because we all know Santa LOOOOVES his cookies)! Print the label, cut, and staple.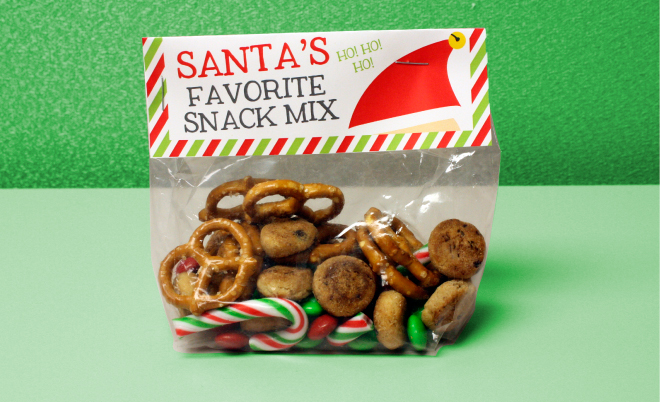 You just made your little ones holiday season even more unforgettable! Now get back to decking the halls and being the merriest super mom there is!