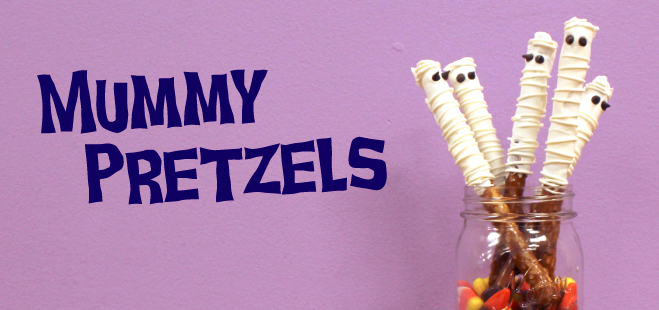 Halloween is around the corner and that means one thing… SPOOKtacular treats! Of course candy is a no-brainer at this time of year, but every Halloween party also needs some festive homemade goodies. Mummy pretzels are a definite must-do: simple to make and yummy in the tummy, too (sorry, couldn't resist!). Kids will be eager to lend a hand making them along with you, and your party guests will be AHH-mazed at the creativity. Everyone will be goblin them up before you can say BOO!
What you'll need:
White melting chocolate
Pretzel rods
Mini chocolate chips
Wax paper
Ziploc bag
Scissors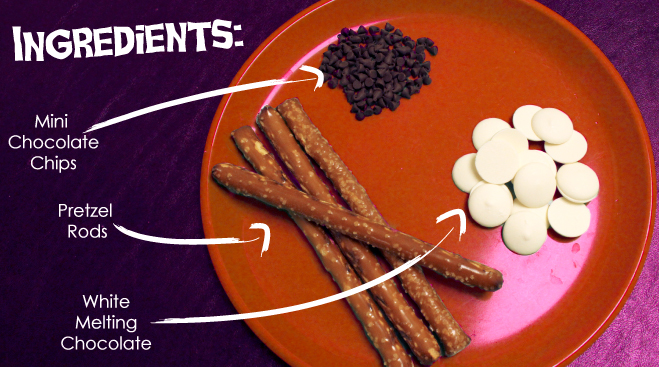 How to make:
1. Melt the chocolate in a microwave-safe bowl as per the directions on the package.
2. Once melted, dip the pretzel rods, covering half of the rod.
3. Lay them on wax paper and place two mini chocolate chips on for the eyes.
4. Let the chocolate set for a few minutes.
5. Pour the remaining melted chocolate in a Ziploc bag, and cut off one of the corners to create a piping bag. Pipe the chocolate across your "mummies" horizontally.
6. Place in the fridge for about 10 minutes to harden.