There is no other holiday I love more than Easter. I also really, really love all the candy that comes along with it! Ask anyone, my first love is candy, second is waffles, third is a close race between donuts and coffee. As I count down the days until I can sink my teeth into my Easter candy, I decided to go with some healthier options before over indulging on the big day. I found the cutest Bunny Tail energy bites by Happy Food Happy Life and gave them a whirl. What's better than a healthy sweet treat with a boost of energy?! I am definitely going to pop a few of these before my Easter Egg hunt that's for sure.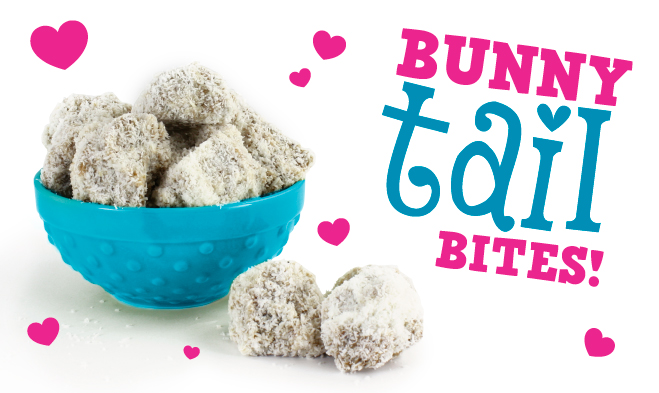 Here is what you will need:
Ingredients:
1/2 cup almond butter
1/4 cup agave
1 scoop vanilla protein powder
2 cups quinoa, cooked and cooled
1 Tbs. ground flax
1 Tbs. chia seeds
1/2 cup dried pineapple (chopped into very small pieces)
1/2 cup white chocolate chips
1/3 cup chopped macadamia nuts
1 cup vanilla Greek yogurt
1/2 cup raw, unsweetened coconut
Directions:
1. Melt down the almond butter, agave, and the protein powder in a small sauce pan. Stir until even.
2. Pour the cooked quinoa, flax seeds, chia seeds, dried pineapple, white chocolate chips and macadamia nuts in a food processor or blender. Blend until fine.
3. Pour agave, almond butter, and protein powder paste into the food processor mixture. Blend all ingredients.
4. Line a cookie sheet with parchment paper. Roll the mixture into small golf-sized balls.
5. Dip the balls into the Greek yogurt and coat evenly.
6. Roll them into the shredded coconut and coat evenly again.
7. Place each Bunny Tail bite on the cookie sheet and place in the freezer for an hour.
8. After an hour, let the bites sit out for a few minutes to soften. Store leftovers (if any) in the fridge.
9. Get hopping!
Thanks to Happy Food Happy Life for my new favorite Easter go-to recipe! Does anyone have any healthy Easter treats to share?