In my opinion, every girl should have a few epic sleepovers for the record books. If you agree, than you've come to the right place. Take that slumber party from yawn to ultimate with a few ideas and activities to get the little guests super psyched. I can't promise that there will actually be sleeping, but I can promise some memories and lots of giggles.
Let's get down to business. First things first: Spread the word!
An official invite for this Ultimate Pajama Party will have guests anxiously counting down the days 'til in the fun begins. Print this sleep mask invitation on cardstock, attach ribbons, and send to your list of attendees to get them even more excited for the big night!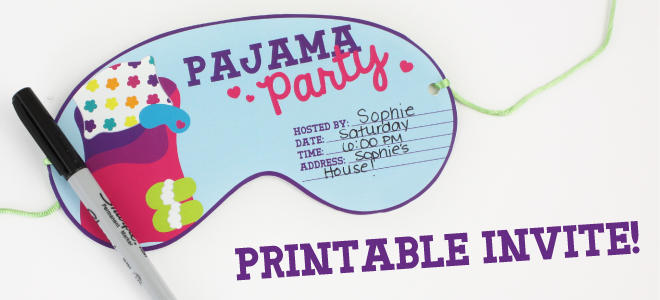 On the big day, start with some Pillow Case Decorating. Stock up on white cases at IKEA or have each guest bring their own to make a masterpiece. Whether it's doodles, an elaborate picture, or inspiring quotes, they'll have fun exploring their creativity, and will also have a great memento to take home with them the next day!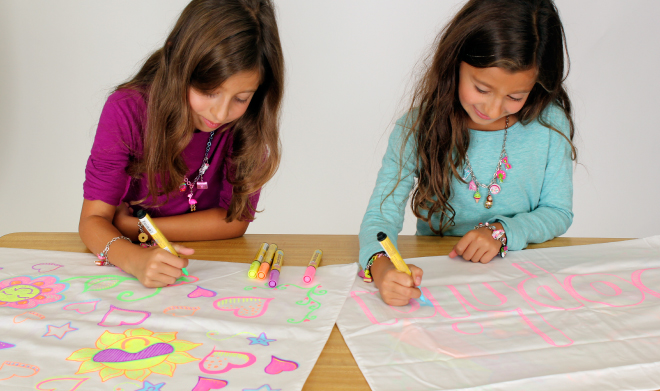 Materials Needed:
Plain white pillowcase
Pencils
Fabric Markers
How to make:
1. Prewash pillowcase
2. Use pencil to lightly sketch drawings
3. Use fabric markers to outline the final designs
4. Fill in the design with various patterns and colors
5. Heat set in dryer for 20 minutes
Next on the list, get the girl talk going with a Popsicle Stick Question Game. You can have the girls each write a question on a popsicle stick or you can pre-make them prior from the suggestions below. Let the Q&A sesh begin.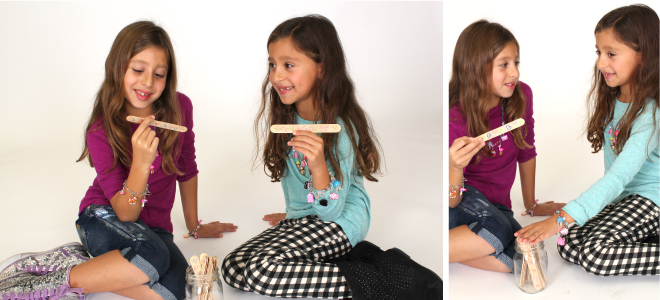 Materials Needed:
Popsicle sticks
Markers
A cup to place the sticks in
How to Play:
1. On one side of each Popsicle stick, write a question. Place the question side facing down in the cup.
2. Have all the girls sit in a circle. The first person picks one stick from the cup, reads the question out loud, and then answers the question. Once the person answers the question they put the stick back in the cup with the question side facing down.
3. Go clockwise around the circle, each girl taking her turn. If a person gets the same question they have already gotten, they can put the stick back in the cup and choose another one.
4. Caution: laughter and bonding may result!
Question ideas to write on the Popsicle Sticks
What is the scariest movie you've seen?
What are three adjectives that describe you?
What was your most embarrassing moment?
If you could only eat one flavor of ice-cream for the rest of your life, what would it be?
If you could visit anywhere in the world, where would you go?
Who is your favorite band/singer?
Who is your favorite movie star?
What is the nicest thing anyone has ever said to you?
What do you say when you talk in your sleep?
What is your biggest phobia?
If you were invisible what would you do?
If you were an animal, what would you be?
Who's your secret crush?
What was your last dream about?
What is one thing about you that no one here knows?
What do you want to do when you grow up?
What are the qualities you most look for in a friend?
Snacks and more snacks are a must. We suggest making Candy Sushi and Smores Dip!
Last but not least, a movie is a great way to wind down the night. Getting cozy with sleeping bags and pillows is highly encouraged here! Below is a suggested list of the perfect movies for a girl's sleepover!
Freaky Friday
Legally Blonde
She's All That!
The Princess Diaries
A Cinderella Story
Ella Enchanted
The Secret Garden
Emma
The Sisterhood of the Traveling Pants
13 Going On 30
School of Rock
Bend it Like Beckham
Beastly
My Girl
Enchanted
Girls Just Wanna Have Fun (a throwback if you think they can handle it!)
There you have it, a few things that will lead to the ultimate sleepover to go down in history. Any other suggestions to make an epic pj party?